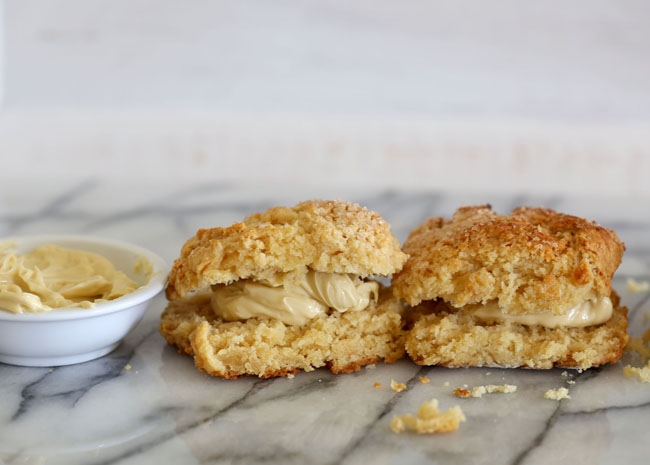 Golden syrup is my favourite syrup out of all the syrups.  I mean I love maple syrup, treacle and honey and I know they're probably way healthier (I don't even really know how golden syrup is made!) but golden syrup is so thick and luscious with a sweet flavour which is difficult to explain, it actually tastes golden.  It's a bit of an Australian institution, most of us having grown up with it in Anzac biscuits and on our porridge and such and I always have a bottle in my cupboard.  Lately I've been getting into Lyle's golden syrup which is, honestly, the ideal one you should use for this recipe as it's darker and more flavoursome than any other I've tried.
Anyway.  I thought I'd make some golden syrup flavoured scones for our Australia day weekend.  I really wasn't sure how they'd turn out but they ended up beautifully flavoured with crunchy tops, fluffy insides and the golden syrup whipped butter is so delicious I think I'll put some on my toast tomorrow morning.  You can have these warm with the butter melted over or cool the scones completely and serve with the butter dolloped on top.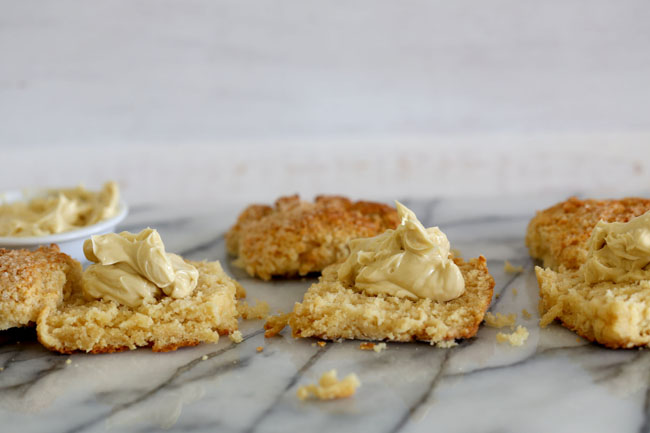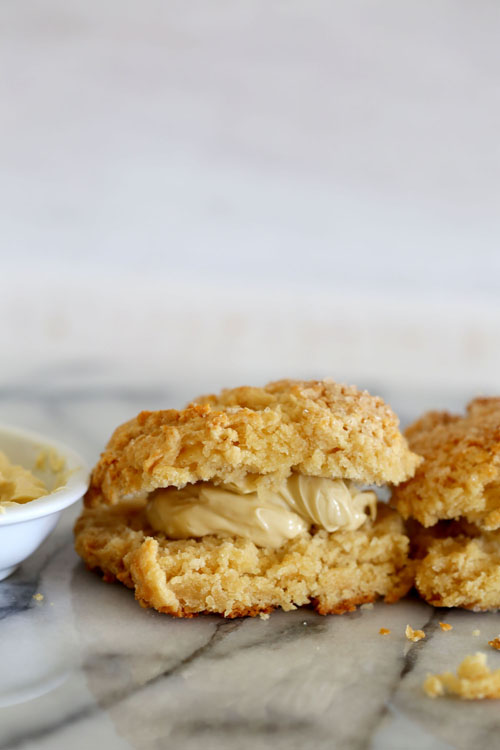 Recipe for golden syrup scones:
2 cups plain flour + 1/4 cup extra
1/2 tspn bicarbonate of soda
2 1/2 tspns baking powder
Pinch salt
2 x 20ml tblspns golden syrup
80g chilled unsalted butter, cubed
1 cup buttermilk
Milk, for brushing
Raw sugar, for sprinkling
Golden syrup butter:
160g unsalted butter, softened at room temperature
1/3 cup golden syrup
1 tspn vanilla essence
Preheat oven to 210C.  Line a 20cm rectangular baking pan with baking paper and set aside.
Sift 2 cups flour, raising agents and salt into a large mixing bowl.  Add the golden syrup and butter and rub into the flour with your fingertips until the butter and syrup are incorporated but with small pieces of butter throughout.  Make a well in the centre and add the buttermilk and use a metal spoon to fold through; add the extra flour if too wet (I used all the flour – the dough should still be soft and a bit sticky).  Do not over-mix.
Place the scone mixture onto a sheet of lightly floured baking paper – gently form into a disc of around 3 cm height.  Use a 6 1/2 cm round cutter to cut out rounds, flouring the cutter between each one, then placing in the prepared baking pan fairly close together.  Brush scones with extra milk, sprinkle with sugar and bake for around 20 minutes or until golden brown and cooked through.
Transfer scones to a wire rack to cool.  Slice in half and serve warm or cooled with the golden syrup butter.
Meanwhile, beat the butter, golden syrup and vanilla with an electric beater on medium speed for 2-3 minutes, or until lighter in colour.  Store butter in the fridge but keep at room temperature for serving.
Makes: 8