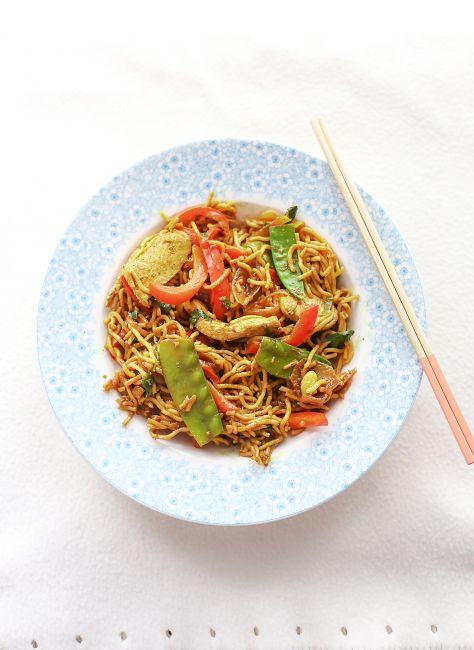 Singapore noodles are one of my favourite things to eat; this dish was always something I'd buy as take away years ago if I felt like something spicy.  I've never made it though!  So last night I gave it a go and it was delicious.
Recipe for Singapore noodles:
500g chicken breast fillets, sliced thinly (can swap 200g of the chicken breast for prawns if you like)
1 x 20ml tblspn Chinese rice wine (I substituted Mirin as that's all I had)
2 tspns honey
60mls sodium reduced soy sauce or tamari
1 x 20ml tblspn fresh ginger, chopped finely
2 cloves garlic, crushed
Pinch chilli flakes
440g fresh Singapore noodles
60mls peanut or vegetable oil
1 x 20ml tblspn curry powder
2 shallots, peeled and sliced into wedges
1 large red capsicum, sliced into 5cm thin strips
150g snow peas, trimmed
4 green spring onions, green part sliced
1 sodium reduced chicken stock cube mixed with 1/2 cup boiled water
40g raw cashew nuts (optional)
Freshly ground sea salt & black pepper
Find a ceramic, deep sided baking dish and place in chicken slices; pour rice wine, honey, 20mls of the soy sauce, ginger, garlic and chilli flakes into a small bowl and whisk to combine.  Drizzle marinade over chicken and toss through until coated, cover with plastic wrap and marinate for 30 minutes in the fridge.
Just before you take the chicken out of the fridge, place noodles in a heatproof bowl and pour over enough boiled water to cover; allow to soak for 3-5 minutes, or until tender.  Separate strands with tongs, drain and set aside.
Add 20mls of oil to a large pan or wok, heat to high and add in half the chicken mixture.  Stir fry for a few minutes until browned and cooked through and place onto a plate.  Add the remainder of the chicken mixture along with the marinade and repeat, making sure to reduce heat if need be.  Add the second batch of chicken to the plate.
Add the remaining oil in the pan then add in the curry powder and shallots, stir frying over medium heat for 2 minutes or so until shallots are transparent.  Add in a tablespoon of the chicken stock to deglaze the pan then the capsicum and snow peas, tossing for a further few minutes until tender but still brightly coloured.    Turn heat to high, then add the chicken mixture (with the juices), remainder of the soy sauce and a further 40mls of chicken stock as well as the noodles, stirring through until hot and combined.  Add more chicken stock if you think it's needed.
You can season if you like however I found it wasn't necessary.
Take pan off the heat and stir through spring onions and cashews then serve.
Serves: 4
Note: you could totally make this vegetarian – just replace the chicken with 500g vegetables (things like steamed broccoli florets, peas, green beans, brown mushrooms) and cook as above.