I made this impromptu soup today and it was so lovely; thick, creamy, rich, full of vegies yet surprisingly low in calories.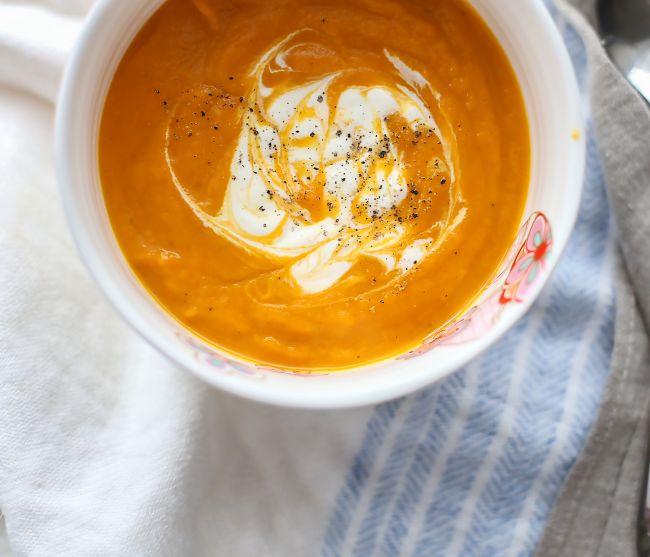 Recipe for carrot & sweet potato soup:
1 x 20ml tblspn olive oil
1 x 20ml tblspn unsalted butter
1 tspn curry powder
1/2 tspn ground cumin
1 medium brown onion, chopped
2 cloves garlic, crushed
400g orange sweet potato, peeled & chopped
620g orange carrots, peeled & sliced
2 cups hot, low sodium chicken stock (I used a vegetarian brand)
Freshly ground sea salt & black pepper
Greek yoghurt, to serve
Add oil and butter to a large, heavy based saucepan along with spices, onion & garlic.  Bring to medium heat, stirring occasionally, until fragrant and onion is transparent.
Add in vegetables, tossing around a bit then the hot chicken stock.  Bring to a high simmer then reduce heat to gentle simmer.  Season to taste then simmer for around 20 minutes, or until vegetables have softened.
Allow to cool a bit then use a stick blender to blend until smooth and creamy.  Serve with dollops of yoghurt and freshly ground pepper.
Serves: 4
Note: Sweet potato and carrot can be roasted in the oil instead of simmering.