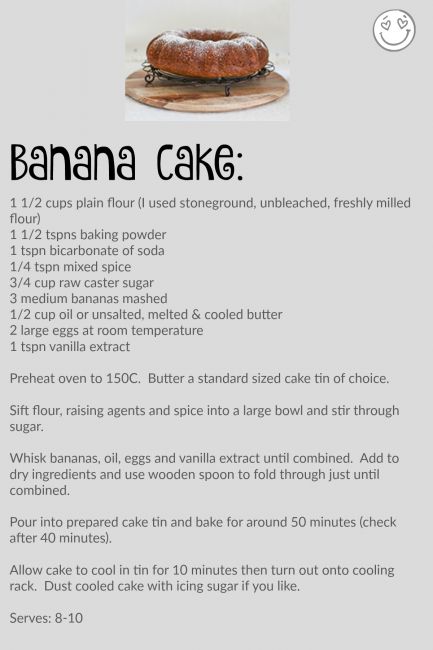 This pretty cake is simple with only a few ingredients but turned out fluffy and soft with a great banana flavour.  A pretty dusting of snowy icing sugar makes it perfect for tea time.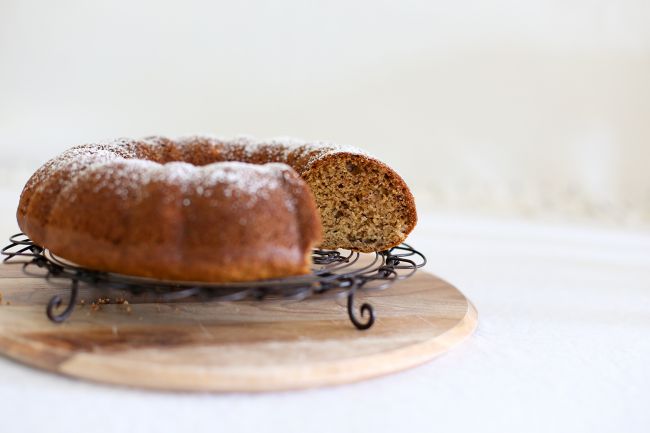 Recipe for banana cake:
1 1/2 cups plain flour (I used stoneground, unbleached, freshly milled flour)
1 1/2 tspns baking powder
1 tspn bicarbonate of soda
1/4 tspn mixed spice
3/4 cup raw caster sugar
3 medium bananas mashed
1/2 cup oil or unsalted, melted & cooled butter
2 large eggs at room temperature
1 tspn vanilla extract
Preheat oven to 150C.  Butter a standard sized cake tin of choice.
Sift flour, raising agents and spice into a large bowl and whisk through sugar.
Whisk bananas, oil, eggs and vanilla extract until combined.  Add to dry ingredients and use wooden spoon to fold through just until combined.
Pour into prepared cake tin and bake for around 50 minutes (check after 40 minutes).  This will depend on the tin you use.
Allow cake to cool in tin for 10 minutes then turn out onto cooling rack.
Dust with icing sugar or top with maple or cream cheese icing.  I like it plain and sliced with butter.
Serves: 8-10
Note:  this freezes well.  I defrost pieces in gladwrap at room temp and serve with butter.