I think I must be quite mad because I made this on new year's day for new year's dinner – one of the hottest nights of the year quite possibly!  Anyway, obviously something stuffed full of meatballs, gnocchi, cherry toms and cheese baked in the oven is going to be wonderfully decadent.  We added a crusty baguette with lashings of butter and pretended it was autumn (thank god for air con).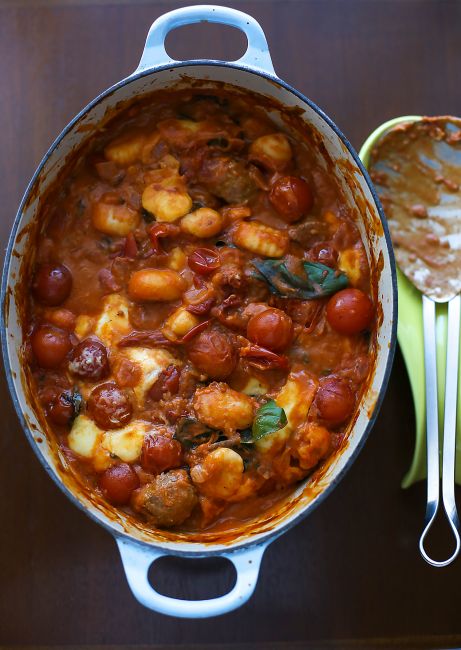 Baked gnocchi, meatball & mozzarella bake:
30mls olive oil
1 medium/large red onion, diced
2-3 garlic cloves, crushed
1 small pinch chilli flakes
300g store bought turkey or beef meatballs (or make your own!)
Freshly ground sea salt & black pepper
2 heaped tblspns no sodium tomato paste
2 x 400g tins cherry tomatoes
2 level tspns raw sugar
500g store bought gnocchi
1/3 cup cooking cream
1 decent handful fresh basil, torn
300g fresh cherry tomatoes
220g cherry bocconcini
Handful finely grated parmesan cheese
Preheat oven to 200C.
Add oil to a dutch or french oven then the onion, garlic and chilli flakes, seasoning well and sautéing over low/medium heat until onion is transparent and softened.  Turn heat to medium-high and carefully place in meatballs, stirring until browned on both sides.  Add tomato paste, stirring for a minute to cook down then add the tinned tomatoes, stirring to combine.  Add further seasoning to taste, the sugar and gnocchi, folding through to make sure gnocchi is covered by the liquid.  Place the lid on and turn hotplate down to medium, gently simmering for 10-15 minutes or so, stirring quite often.  This is to make sure the meatballs and gnocchi are cooked through.
Add cream just before the end of cooking time with further seasoning to taste, stir through then remove from hotplate and stir through basil.
Add the fresh cherry tomatoes, fold in gently then scatter the bocconcini over the top (if you have large bocconcini, then tear into smaller pieces first); sprinkle over parmesan.  Bake uncovered for 20-25 minutes or until cheese is all melty and golden brown and mixture is bubbling.
Allow to sit for a few minutes before serving with buttered crusty bread and a salad.
Serves: 4
Inspired by and adapted from: Simply Delicious