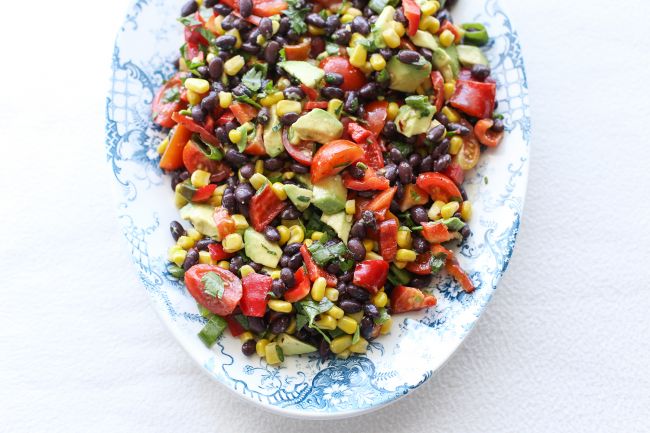 We've been living on this all summer – spicy and delicious, it's super easy to put together earlier in the day then you get to just pour it into a bowl and enjoy it for dinner.
Summer black bean salad:
Dressing:
2 tspns maple syrup
1 garlic clove, crushed
1 tspn Dijon mustard
Pinch chilli flakes
1 lime, juiced
40mls extra virgin olive oil
Freshly ground sea salt & black pepper
1 400g tin black beans, rinsed & drained well
1 punnet cherry tomatoes, halved (or quartered if on the large side)
100g frozen or fresh sweetcorn kernels
1 medium red capsicum, diced
1 decent sized avocado, diced
3 spring onions, green parts only, sliced
Handful flat-leaf parsley, chopped
Whisk dressing ingredients in a bowl until combined.
Add corn kernels to a heat-proof bowl and pour over just boiled water – sit for 2 minutes, run cold water over then drain well.
Add salad ingredients to a bowl, season well then pour over dressing and lightly toss through until everything is coated.  Sit for 10 minutes before serving.
Serves: 2
Note: this is also nice with cannellini beans