Galettes are a super easy, delicious way to make pie, basically.  A few years back I made a cherry and peach galette which turned out to be one of my favourites desserts.
However.  Ahem.  This is what happens when you use too many raspberries.  I had 400g of raspberries left over in the freezer and thought I'd just throw them in the bowl and, well, as you can see, major fruit explosion (the recipe reflects a more appropriate amount, never fear).
It tasted wonderful though, picture this; a cold day, the lounge, cuddly blanket, and a bowl of warm, luscious, sticky, tart-sweet fruit topped pastry with a dollop of cold cold cream.  Bliss.  And I promise the adapted recipe won't be quite as messy looking but will taste just as wonderful and the pastry will have a chance to shine through a bit more.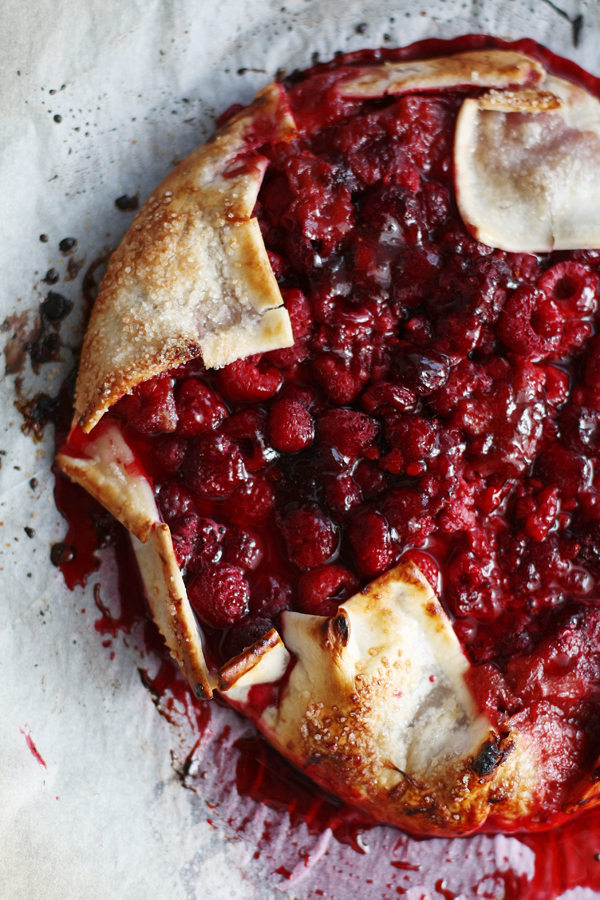 Recipe for raspberry rhubarb galette:
1 sheet store bought pastry
10 stalks rhubarb, sliced
3 x 20ml tblspns raw sugar
220g raspberries
1 tspn lemon juice
2 x 15ml tblspns caster sugar
1 tspn vanilla extract
2 tspns cornflour
1 egg whisked with a splash of milk (if you don't want to waste an egg, just use milk)
2 tspns raw sugar
1 heaped tablespoon of strawberry or raspberry jam
Thick, cold cream to serve
Place rhubarb and sugar into a medium, heavy based saucepan, bring to the boil then reduce to medium, cover and simmer for 2-3 minutes or until you can see liquid.  Uncover then simmer on low/medium heat for 8-10 minutes or until liquid has reduced and thickened.  Set aside to cool to room temperature – it will thicken further on cooling.
Place pastry sheet into a baking paper lined baking tray; I used a round pizza tray and place it onto a larger baking sheet to catch any drips.
Preheat oven to 220C.  Add raspberries, lemon juice, sugar, vanilla and cornflour to a bowl and toss gently until combined well.  Spoon rhubarb onto the middle of the pastry then top with the fruit mixture.
Roll up sides of pastry and tuck in around the fruit to make round pie shape, leaving the fruit open-faced.  Brush egg wash or milk around sides of pastry and sprinkle over raw sugar.
Bake around 30 minutes, or until pastry is golden brown and fruit is bubbling.  Just before galette has finish baking, stir jam and a couple of teaspoons of water in a small saucepan, simmering over medium heat for 20 seconds or so, stirring, until jam has dissolved and mixture is hot.
Once tart is out of the oven, brush jam glaze over the fruit in a thin layer.
Serve galette with cream.
Serves: 4
Rhubarb compote adapted from: spice and rhubarb loaf cake