Rhubarb is one of those foods which seems to come in and out of favour, although how ridiculous is that anyway, fashionable food?!  I've heard TV cheffy types recently refer to avocado and rocket (two of my favourite things to eat) as being outdated and I remember thinking blimey, how rude, I don't just stop liking things!
Anyway, I spotted a recipe for baby rhubarb spice cakes at Gourmet Traveller and thought they looked lovely.  I made quite a few changes (for one thing, I don't have mini loaf tins so made a big loaf instead) but was happy with the end result – warm, spicy and sweet, soft crumbed cake with a rich rhubarb compote down the centre which became all jammy and sticky after baking.
The rhubarb compote is amazing; so much better than I expected and it was delicious served over yoghurt, rice pudding and ice cream – yes I tried all three, on separate days obviously, mainly because rhubarb comes in large bunches and I made a whole heap so I didn't waste it.  And don't mind me showing off my cheery yellow teapot only it's gotten cold here and I felt like taking some sunny pictures!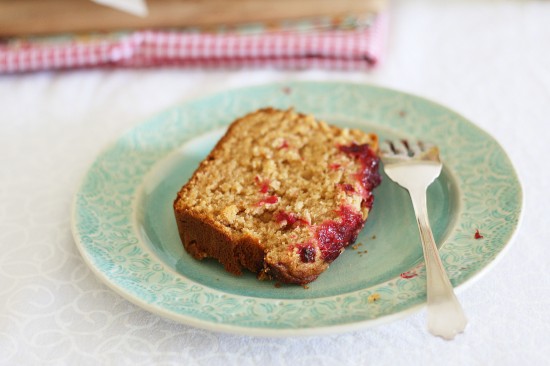 Recipe for Spice and Rhubarb Cake:
1/2 cup unsalted butter or baking margarine, softened at room temperature
3/4 cup golden syrup
1 tspn vanilla or maple essence
2 eggs (59g weight)
1 ½ cups self raising flour
1/4 tspn baking powder
2 tspns ground ginger
2 tspns ground cinnamon
1 tspn mixed spice
1/2 cup creme fraiche or full fat sour cream
Rhubarb compote
4 long stalks of rhubarb, sliced
1/2 cup raw caster sugar
Rhubarb compote:
Combine rhubarb and sugar in a small, heavy based saucepan, bring to the boil then reduce to medium, cover and simmer for 3 minutes or you can see liquid.  Take lid off and simmer on low/medium heat, uncovered, for 8-10 minutes or until liquid has reduced and thickened.  Set aside to cool – it will thicken further on cooling.
Preheat oven to 180C (170C fan forced).  Grease a 20cm x 10cm (mine was slightly smaller) loaf tin and line base and sides with baking paper.
Sift flour, baking powder and spices into a bowl.
Use an electric beater on medium speed to cream butter, golden syrup and essence until pale and creamy – around 3 minutes.  Add eggs one at a time, mixing well between each addition, until incorporated – the mixture will curdle but will come together when the rest of the ingredients are added.  On low speed, add flour in three parts and sour cream in two parts alternately, ending with flour – don't over-beat.  I folded in the last part with a spatula.
Spoon into prepared tin, level top and make a ridge down the centre using a butter knife –  spoon 2-3 tablespoons of rhubarb down the centre (you'll have quite a lot left over to serve with the baked cake).  Bake 45-50 minutes or until top springs back when pressed – you could also test by inserting a skewer int the centre and checking to make sure no uncooked crumbs are attached.
Allow to cool in tin for 8 minutes, then turn out onto wire rack to cool completely.  Cake will keep in an airtight container for up to 3 days or can be wrapped in plastic wrap and frozen.
Serve with some of the remainder of the rhubarb compote and creme fraiche.
Serves: 10
Adapted from: Gourmet Traveller