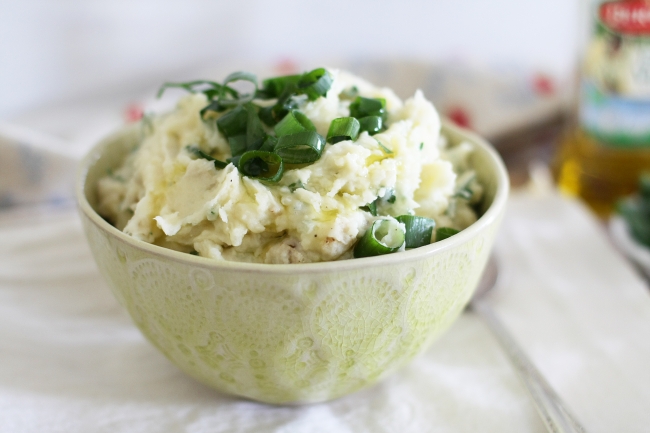 I adore mashed potato and of course, mashed sweet potato is delicious; fluffy, sweet and warm.  When I was teeny tiny, some days, it's all I'd eat.  I prefer to leave the skins on my white potatoes (it's healthier and you can't tell the difference – use organic if you prefer) and after years of using any old variety without putting much thought into it, I've started to become more discerning about the humble and healthy potato, as different varieties have different uses, textures, colours and seasons and so forth.  Poh's Kitchen has a great page discussing all things potato.
Good mash can be a great accompaniment to just about any protein you like but is particularly lovely with a great piece of porterhouse with caramelised onion or my dad's fried chicken.  The other night I made my Chermoula chickpeas served with the cheese and garlic mash and it was lovely!  So, in short, very versatile and comforting.
I love to add simple yet tasty things to mash; chilli flakes, cream instead of butter, Parmesan, herbs or a splash of olive oil.  You can pretty much add anything, including vegan substitutes and in fact, mashed avocado or pesto would be amazing also.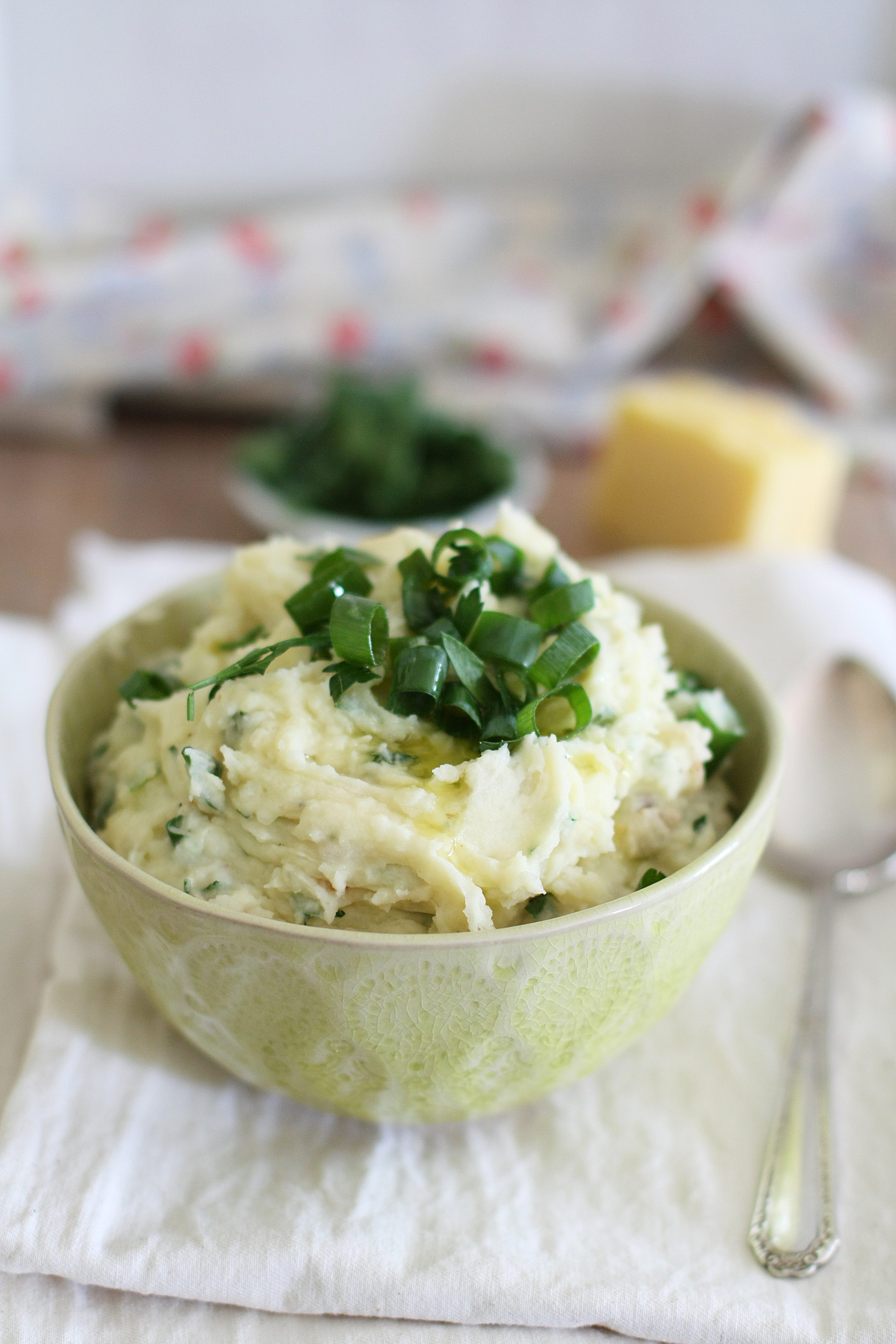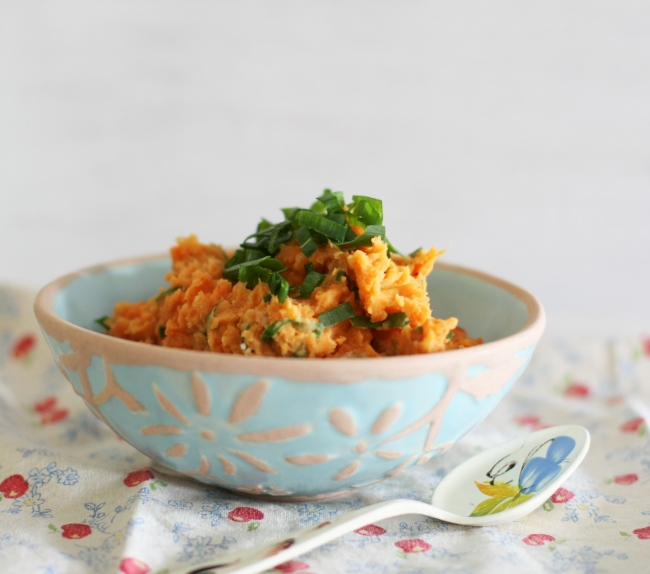 Cheese and garlic mashed potato:
1 head of garlic
Extra virgin olive oil
600g good mashing potato, scrubbed and cubed
Good handful Parmesan cheese, finely grated
Handful spring (green) onions and flat leaf parsley, finely chopped
Full fat milk or cream, at room temperature
2 heaped tblspns unsalted butter or margarine, at room temperature
Freshly ground sea salt and black pepper
Preheat oven to 200C.  Slice off the top of the head of garlic, remove some of the outer leaves but leave a layer surrounding the cloves.  Place on a piece of foil and drizzle over a tablespoon of oil – you might need to place some more foil underneath as mine leaked a bit.  Wrap head of garlic in foil, place on a baking dish and roast for 35-40 minutes.  Set aside in the foil to cool a bit then carefully unwrap garlic from the foil and drain oil into a small bowl.  Squeeze out the cooked garlic cloves and mash them with a fork.
Meanwhile, boil potatoes for 12 minutes, or until tender (don't over cook).  Drain potatoes then place them back into the pan and place on the hotplate you just turned off to dry for around 20 seconds.
Add garlic cloves to the potatoes and mash well.  Add cheese, herbs, a decent splash of milk or a couple of generous dollops of cream, butter and seasoning to taste to the mash then use a wooden spoon to whip the potatoes until fluffy and creamy.  Add more seasoning if required.
Drizzle over garlic oil, a bit of extra virgin olive oil then sprinkle over extra herbs.  Serve straight away.
Serves: 4 sides
Recipe for spicy sweet potato mash:
400g sweet potato, peeled and cubed
200g good mashing potato, scrubbed and cubed
Extra virgin olive oil
3 heaped tablespoons sour cream (or decent splash of full fat milk if you don't have it)
Handful spring (green) onions, finely sliced
Pinch chilli flakes
1/4 tspn ground cumin
1/4 tspn sweet paprika
Freshly ground sea salt and black pepper
Boil both potatoes for 10-12 minutes or until tender.  Drain, place potatoes back in the pan and back on the hotplate they were cooking on (turned off) for 20 seconds or so, or until moisture is gone.  Mash well.  Add a drizzle of olive oil, sour cream, spring onions, spices and seasoning to taste then beat with a wooden spoon until fluffy – add more olive oil or sour cream if you think it needs more moisture.
Serve immediately.
Serves: 4 sides
Note:  for vegan substitutes, use full cream non-dairy milk instead of dairy products; nutritional yeast instead of Parmesan; and vegan margarine instead of butter.  Mashed avocado and pesto make great alternatives as well.