I love this spicy, healthy dish I adapted from Limes and Lycopene.  It tastes even better if you leave it in the fridge for a few hours (or even a couple of days) before serving.  If you want to step it up a bit, add around 60mls of coconut milk in the last 5 minutes of simmering.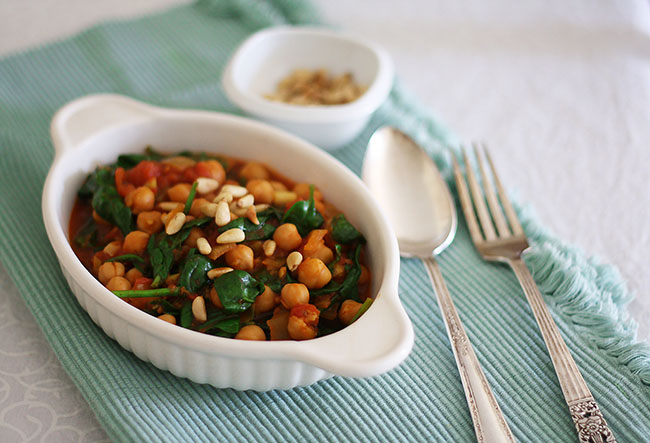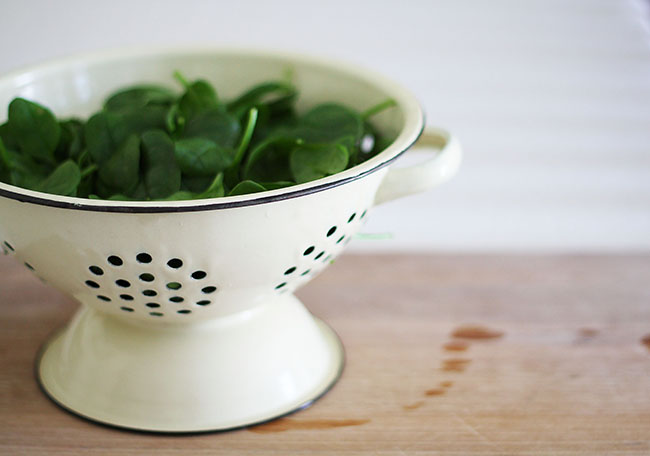 Recipe:
1 x 20ml tblspn olive or grapeseed oil
1 medium red or brown onion, diced or thinly sliced (whichever you prefer)
2-3 cloves garlic, crushed
1-2 tspns Chermoula or Moroccan spice mix (to taste)
Pinch chilli flakes
1 x 400g tin organic chickpeas, rinsed and drained or 250g cooked chickpeas
1 x 400g tin organic tomatoes or cherry tomatoes
Lemon zest and lemon juice from 1 lemon
Freshly ground sea salt and black pepper
100g baby spinach, baby kale, rocket or watercress
20g toasted pine nuts
60mls (1/4 cup) coconut milk (optional)
Wholegrain bread rolls, brown rice, or mashed sweet potato to serve
Add oil, onion, garlic, spice mix, chilli flakes and lemon zest to oil in a medium sized saucepan or pan and sauté covered on low-medium heat until onion is lightly caramelised and transparent, stirring regularly.
Add in chick peas and toss through oil mixture then add tinned tomatoes, lemon juice and seasoning, stirring to combine.  Increase heat to high until at a high simmer then reduce heat to medium and simmer gently, covered, for 10 minutes so the tomatoes cook down, then uncovered (or with a splatter guard) for 10-15 minutes, stirring regularly, until mixture has thickened and reduced.  If using coconut milk, add 5 minutes before the end, making sure to heat through and combine well.
Stir through greens after taking off the heat.
Serve with pine nuts scattered over the top with crusty bread, brown or black rice or mashed sweet potato.  I sometimes like mine with a dollop of Greek yoghurt and sliced avocado on the side.
Serves: 2
Note: freezes well for up to 3 months