To celebrate this year's St Paddy's Day, I thought I'd make a hearty beef stew with Guinness.  It doesn't get more Irish than that hey?!
I've never made one with a soda bread crust before (although I've made soda bread and am mad for it) and thought it looked really interesting.  It was super easy but I did change quite a lot; I don't eat lamb for example, so used beef and thought I'd throw in a bit of Parmesan for the soda bread and a couple of other things.
I loved using Guinness in this recipe as it's wonderful for slow cooking.  I actually prefer it to red wine for beef casseroles, as it's slightly thicker, darker and the flavour isn't as strong as red wine but still makes for a rich casserole.  The crusty, savoury bread was delicious as an accompaniment baked on top of the flavoursome beef and as you eat it, it soaks up the thick sauce.
However …. we seem to have misplaced Autumn this year in Australia so it was a bit warm for slow cooking and bread baking.  Still, it was well worth it.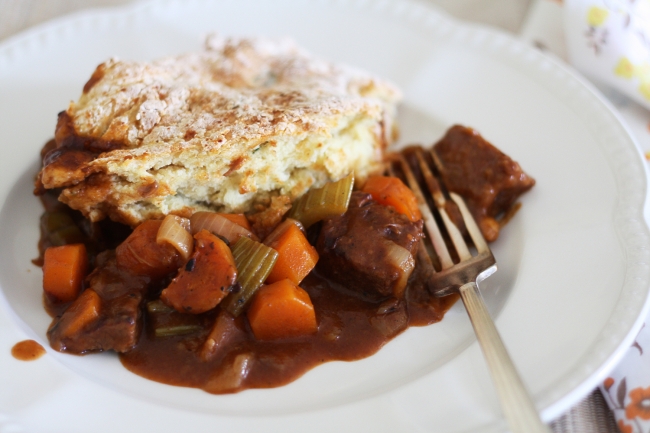 Recipe for beef pie with soda bread crust:
1kg blade steak, trimmed and cut into medium sized cubes
2 (20ml) tblspns plain flour
Freshly ground black pepper and sea salt
60mls grapeseed oil
1 large onion, sliced
2 garlic cloves, crushed
3 medium sized carrots, peeled and sliced into rounds
3 stalks celery, sliced into rounds
Tiny pinch chilli flakes
2 tblspns fresh thyme leaves, finely chopped
2 dried bay leaves
375mls (1½ cups) Guinness
2 (20ml) tblspns reduced sodium tomato paste

Soda bread crust:
1 cup plain flour
1 cup self raising flour
1 tspn bicarbonate of soda
1/2 tspn salt
1/3 cup Parmesan cheese, finely grated
1 tblspn thyme leaves, finely chopped
1 1/4 cups buttermilk, at room temp
Preheat oven to 150C.  Find an ovenproof casserole dish with a lid, and measure the circumference and write down (I used a Dutch oven).
Toss beef cubes in flour, salt and pepper until well coated.  Shake off excess.
Add oil, onion, garlic, carrots, celery, chilli flakes and seasoning to the casserole dish over high heat then turn down to low/ medium and sauté , stirring regularly for around 5-8 minutes, or until onion is lightly caramelised and transparent.  Transfer to a plate and set aside.
Heat 20mls of oil in the same dish over high heat and brown half the beef, sealing it on the outside only.  Transfer to a plate and repeat with the remaining oil and beef.  Add Guinness to deglaze the pan then return the first batch of beef and the onion mixture to the casserole dish.  Add tomato paste and stir to combine then bring mixture to the boil, stirring, add bay leaves, 2/3 of the thyme and more seasoning to taste, then cover dish and place in the preheated oven for 1 to 1 1/4 hours or until beef is tender and mixture has reduced a bit.  Towards the end of the cooking time, increase oven temperature to 200C for ten minutes.
Around 10 minutes before the end of the beef cooking time, start the soda bread.
Sift flour, bicarb of soda and salt into a large mixing bowl then stir in the grated Parmesan and remainder of the thyme.  Make a well in the centre and pour in 3/4 of the buttermilk, folding in using a wooden spoon until combined.  Add more buttermilk gradually to make a sticky dough (you may not need all of it).
Turn dough out onto a clean, lightly floured, flat surface and knead lightly, shaping and flattening into a smooth circle measuring the same size as the casserole dish circumference as stated earlier.
Remove beef stew from oven and discard bay leaves.  Place soda bread dough over the top of the casserole carefully (dish will be very hot!) and place dish (uncovered) back into the oven for 25 minutes, or until bread has risen, is golden brown and sounds hollow when tapped.
Serve straight away.
Serves: 6
Adapted from and inspired by: SBS