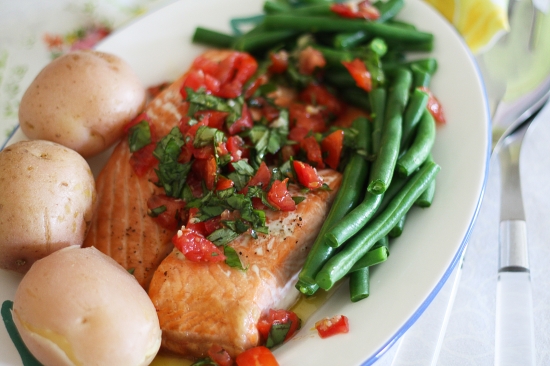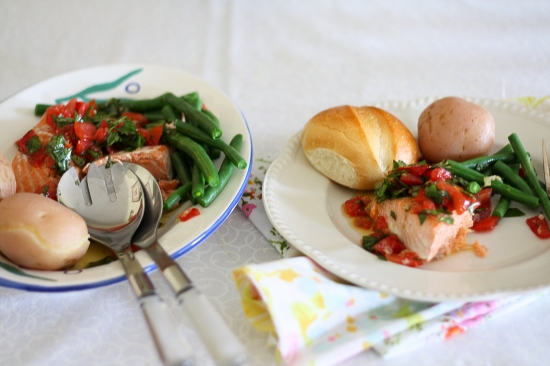 Recently I was contacted by Natalie from Keep Left on behalf of Tassal, who very kindly asked if I would review some of their beautiful Tasmanian salmon products.  Naturally I was super pleased to do this, as I love salmon and Tassal is a brand I buy regularly.
Atlantic salmon is an extremely healthy variety of fish (all those Alaskan bears can't be wrong eh?!) which is packed full of good fats and nutrients.  Tassal's products are a wonderful addition to a healthy diet as their products are easily sourced by consumers and are sustainable.  Tassal's extensive product range, which is available from Coles, Woolworths and The Salmon Shops situated in Kew, Victoria and Salamanca, Tasmania, includes:
fresh Atlantic salmon fillets
fresh whole Atlantic salmon
sliced smoked salmon (including salt reduced)
a variety of plain and flavoured frozen Atlantic salmon fillets
tinned salmon
salmon antipasto.
I thought it would be fun to use Tassal salmon to develop some Christmas recipes with a difference, so will be posting three reviews and recipes over the next couple of weeks to help with ideas for the festive season – don't forget to check back!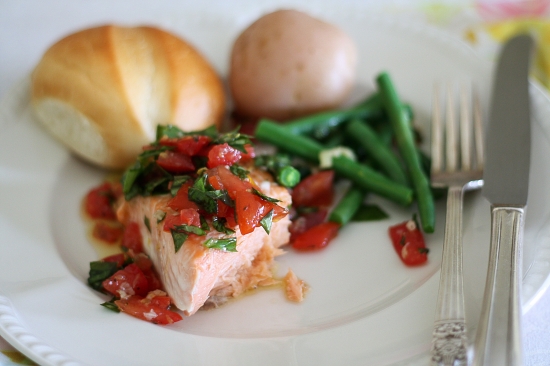 Today's recipe is a wholesome, fresh and seasonal alternative to the traditional roast Christmas lunch for our very warm Christmas Day; it's super easy to put together and the oven doesn't have to be on for long.  It also has the most gorgeous Christmas colours so looks very festive and pretty on the dining table!
Tassal's fresh salmon fillets are rich, melt-in-your-mouth and have a delicate sea flavour – they really taste amazing.  The raw fillets were fresh, smelled like the sea and were a bright, healthy colour (v. important).  The salmon portions went perfectly with sweet summer basil and tomatoes, garlic and lemon flavours, creamy fruity olive oil, rustic potatoes and crisp green beans.
I loved how fresh and flavoursome this dish was and although it tastes decadent, is actually very healthy and light.  Some crusty bread rolls were lovely to mop up the olive oil at the end and … a glass of crispy, cold white wine wouldn't have gone astray but sadly we forgot the wine when we did our shopping!
Oh and if you have any left over as we did, it tastes great the next day tossed through some pasta with a bit more olive oil as a sort of impromptu salad.
All opinions stated here are my own, I wasn't paid to trial or review any products and I wasn't under any obligation to write a positive review.
Recipe for baked salmon with tomato basil salsa:
800g new potatoes, skin left on
4 Fresh Tassal salmon fillets
Grapeseed oil
3 small tomatoes (around 300g)
Handful basil
1-2 small cloves garlic, crushed (to taste)
1 tspn lemon zest
Freshly ground black pepper
1/3 cup extra virgin olive oil
400g green (string) beans, topped and tailed
Freshly ground sea salt and black pepper
Bread rolls, to serve
Preheat oven to 200C (190 fan forced).  Place each fillet onto a baking paper lined baking dish, drizzle with a bit of oil and season well.
Boil potatoes for 15-20 minutes, or until tender (if you manage to find the baby ones, they should take around 10 minutes, mine were slightly larger).  Drain, then place back in pan with the lid on to sit aside while making up the rest of the dish.
Meanwhile, bake salmon (the timing will depend on your oven and the size of each fillet) – mine were around 160g and I checked after 10 minutes or so then put them back in the oven for a few more minutes.  Ideally, the fillets should be crispy around the edges with a rare centre.
Halve each tomato then squeeze all the juice and seeds out into a small bowl.  Finely dice the remainder of the tomato.  Finely slice basil.  Set aside.
Heat garlic, lemon zest, black pepper and extra virgin olive oil in a small saucepan over medium heat until just sizzling then take off hotplate and sit on the bench top to infuse for a bit until you finish the rest of the dish.  Sieve if you prefer not to have bits of garlic in the oil (I didn't).  Add shredded basil and finely diced tomatoes just before you serve the meal and gently stir through the infused oil – add seasoning to taste.
Steam green beans just before end of cooking time for salmon – I steamed them just long enough to be bright green and crisp.
Place salmon, green beans and potatoes onto plates.  Drizzle over sauce, making sure the fish and vegetables are coated.  Serve with bread rolls (and wine.  Don't forget the wine!).
Serves: 4
Note 1:  To use any leftovers – flake the salmon, dice the potatoes and add some cooked pasta twists then stir through with a splash of extra virgin olive oil.
Note 2: If not keen on green beans, broccolini or asparagus would also be suitable