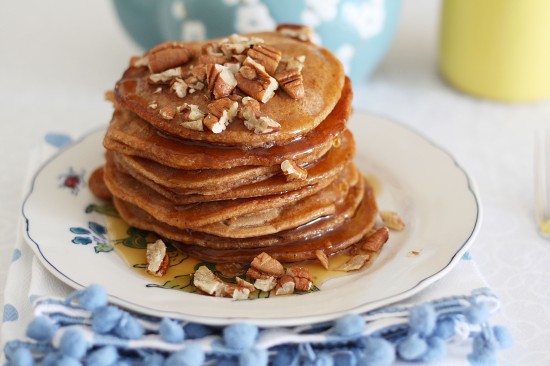 I don't know about anyone else, but I can't get on with my day until I have my morning cuppa and going to bed without a cup of tea just doesn't seem right.  Tea is calming, comforting, it brings people together, has many health benefits, there are so many different flavours, and for these reasons, I'm a tea lover from way back.  I was very lucky recently to be contacted by Nerada Tea, one of my favourite brands, to review some products and to offer a giveaway.
I'm a regular purchaser of Nerada's black and chamomile teas and for the first time, tried both the Rooibos vanilla and peppermint teas;
The Rooibos vanilla is so lovely and softly sweet with such a well rounded, aromatic vanilla flavour, it's one of my favourite teas now.  As you can see from the images, the colour is amazingly golden and so pleasingly to look at, it's almost too easy to curl up on my favourite part of the lounge and have a time out for a few minutes.
The peppermint tea is a herbal infusion which has a really fresh, cool, subtly sweet peppermint flavour which isn't at all overpowering – I loved having this after a meal and found it really uplifting.
Some things to know about Nerada Tea:
Nerada is the largest supplier of Australian grown tea.
Nerada has an amazing range of teas from traditional black flavoured, iced, organic and fair trade, Chai, herbal infused and Rooibos vanilla to green and white teas.
Nerada's original black tea is grown without pesticides in North Queensland on lush, fertile and healthy land and can compete with some of the best tea in the world.
Nerada offers carefully selected, imported organic and fair trade teas.
The Nerada tea website has a range of recipes if you'd like some teatime inspiration.
In light of the last point, I thought I'd use the Rooibos vanilla to make Chai (tea) inspired, vegan pancakes for a healthy, sweet breakfast treat.
I was super pleased at how these turned out; fluffy with subtle vanilla tea, spice and orange flavouring, and they paired really well with sweet maple syrup and toasted pecan nuts.  You don't need to be vegan to enjoy these at all, in fact, they make a hearty, health conscious breakfast for everyone in the family (and you get to save your eggs!).
You'll find the recipe at the end of this post.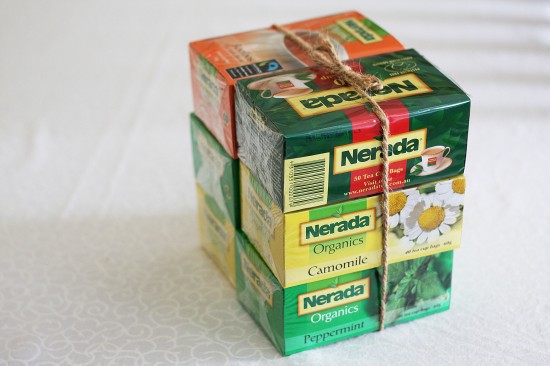 And now for today's giveaway which consists of:
2 x 50 teabag packs of original Black Tea – an aromatic, well rounded tea for any time of the day which is lovely with just a splash of milk
2 x 50 teabag packs of organic Chamomile Tea –  a flowery, fragrant and calming herb tea which has stress relieving properties
1 x 50 teabag pack of organic Vanilla Rooibos – a smooth, creamy, naturally sweet, caffeine free, vanilla flavoured tea perfect as a dessert tea for after dinner or for something special in the morning.  I love this with a splash of milk but it's also nice on it's own.
1 x 50 teabag packs of organic Peppermint Tea – a fresh, minty tea which can be useful for digestion or as an after meal drink
So this should keep the lucky winner in lovely, healthy tea for a long time!  Or you could even give some as a gift to your mum, friend or a friendly coworker.
Some rules you should read:
The giveaway is associated with Nerada Tea who very kindly offered me the teas to try and for the giveaway.
The giveaway is open to Australian residents only – apologies to anyone outside Australia, I'd have loved to send an overseas reader some of our beautiful Australian tea but I'm afraid it might not get through customs.
To enter, either leave a

comment

to this post or

send an email

via the contact tab.
You can enter via both options if you like, to increase your chances of winning.
I'll be sending the tea at no cost to the person chosen.  Neither the cost of the tea nor the postage is transferable.
The giveaway will be open for two weeks from today and will close at midnight on 12th August 2012 (Eastern Standard Time, Queensland, Australia).  If my site happens to crash or some other major technical difficulty occurs, I'll update this post for a new closing time.
The winner will be chosen at random by random.org and I'll be emailing the lucky person to inform them, asking for full name and postage address so I can send the tea.
All personal information will be kept strictly confidential and will not be disclosed to any other party.
Thanks to everyone, from near and afar, who read, leave comments or use my recipes.  Also lately I've received a few sweet emails which I really love.  Thank you also to Nerada Tea for their generosity in sending me their tea to trial and for the giveaway!
All opinions stated in this review are my own, I wasn't paid to trial or review any products and I wasn't under any obligation to write a positive review.
Recipe for vegan Chai pancakes
1 cup wholemeal plain flour
1 cup white plain flour
1 1/2 tspns baking powder
1/2 tspn baking soda
1 tspn ground cinnamon
1/2 tspn ground ginger
1/4 tspn ground cloves
1/8 tspn ground cardamom
1/3 cup organic raw caster sugar (decrease the amount if preferred)
1/4 tspn salt
1/2 zested small orange
1 1/4 cups almond milk
15mls white wine vinegar, extra
1 Nerada organic rooibos vanilla tea bag
1 cup boiling water
1 tspn vanilla extract
2 x 20ml tblspns grapeseed oil
Grapeseed oil, extra
Topping:
Agave, golden or maple syrup
Handful pecans
Preheat oven to 170C.  Place pecans on a baking paper lined flat baking tray.
Add vinegar to measuring jug, then add almond milk up to 1 1/4 cups and allow to stand for ten minutes.  Steep Rooibos teabag in 1 cup of just boiled water for 8-10 minutes then squeeze teabag into it before removing.  Allow to cool – I stored mine in the fridge for ten minutes or so while preparing the other ingredients.
Meanwhile toast whole pecans in oven for 7 minutes, or until fragrant, allow to cool a bit then chop roughly and set aside.
Whisk sifted flours, raising agents and spices with sugar, salt and orange zest in a large mixing bowl.  Whisk almond milk, tea, vanilla extract and grapeseed oil until combined.
Make a well in the centre of the dry ingredients and add the wet ingredients, whisking lightly until just combined and there aren't too many lumps left.  Allow pancake mix to stand for ten minutes at room temperature.
Add 20mls of oil to a heavy based non-stick frypan or griddle and heat on medium/high.  Add 1/4 cup scoops of pancake mix to hot pan and cook for 1 minute, then flip over for 30 seconds to a minute or until cooked through and light golden.  Continue with remaining pancake mix, brushing 15mls of oil between each batch and turning down heat a bit if pancakes start to burn.  The amount of oil will depend on how large your frypan is but needs to coat the base nicely – mine is around 30cm in diameter.
Keep cooked pancakes on top of each other on a plate so they stay warm as you cook them (you could wrap them in foil if you like).
Serve with syrup of your choice and chopped, toasted pecan nuts.
Makes: 12 medium sized pancakes