I don't often use cake or bread mixes as I enjoy baking from scratch, however it's nice and convenient to use them occasionally and they have come a long way in the past decade or so.  I also appreciate that people don't always have the time or inclination to bake from scratch; I'm definitely no domestic goddess, I haven't done the vacuuming in a while come to think of it …
I thought for something a bit different, I'd feature one of my favourite brands, Laucke, today.  This is a personal review I've chosen to do for which I haven't received any payment.  Some key points:
Laucke's outer packaging is made from 100% recycled materials.
The website has a good assortment of recipes.
They have a large variety of bread and baking mixes, including gluten free, for home bakers.
The baking mixes include flour, raising agents and yeast – any add ins are up to the home baker.
Laucke is 100% Australian owned and operated.
Laucke's bread mix conveniently comes in two 500g packs within the main package, saving you having to store then use the rest in a hurry.
All good and ethical reasons to try out this brand.  My most recent purchase was the Sweet Bread and Bun Mix; so I thought firstly I'd bake some sweet fruit, nut and spice rolls then a couple of weeks later I tried some brioche, which can sometimes, depending on the recipe, be a fairly complicated process but was made much easier using this mix.  Using bread mix is still a bit of work; you have to add things and knead it like you would making bread or brioche from scratch, however the rising time is faster and the results are pretty consistent, so long as you use a good kneading technique or, in the case of the brioche, have access to a mixer and dough hook.
The fruit buns were gorgeous, all fruity and soft and had that fragrant and fluffy hot cross bun flavour and texture we all love.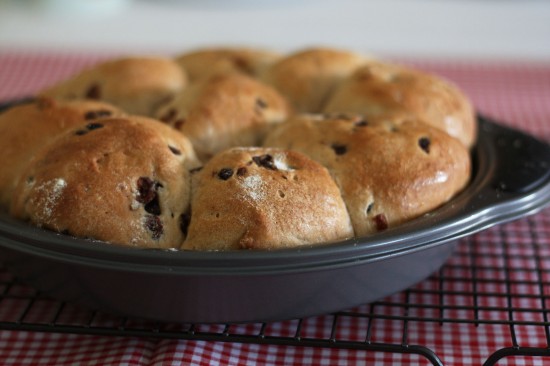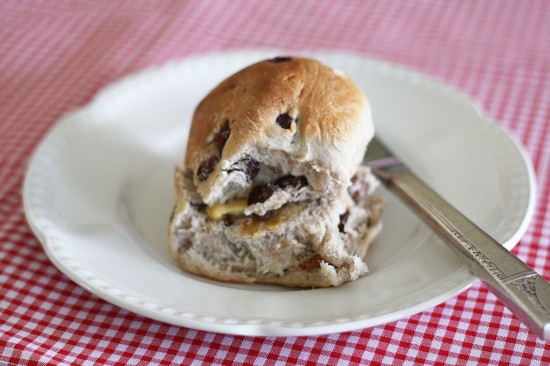 The brioche was a success as well.  I'd never made brioche before yet the end result was lovely; crusty top with a soft, tender crumb which was wonderful with butter just out of the oven and toasted under the grill for breakfast in the mornings.
As is always the case with baking, these goodies were at their best made on the day, however both recipes also freeze well.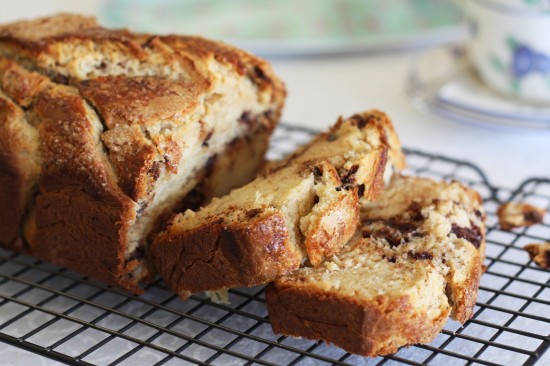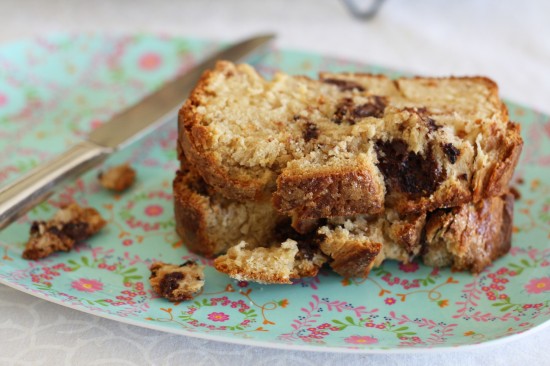 Recipe for fruit, nut and spice rolls:
500g Laucke sweet bread and bun mix
4g yeast sachet
270mls (1 metric cup plus 1 20ml tblspn) lukewarm water – you might need 1-2 tblspns more depending on the weather
Add ins:
1 tspn ground cinnamon
1 tspn mixed spice
3/4 cup sultanas
1/4 cup chopped pecans, toasted lightly
Pre-soak raisins in warm water for 45 minutes.  Drain in colander and set aside.  Chop pecan nuts finely and toast in 180C oven for 7 minutes or until fragrant.  Set both aside.
Open one 500g pack (each whole packet contains 2 500g packets) of flour and empty into a large glass mixing bowl.  Whisk in quickly the yeast and spices then add 270-290mls lukewarm water and mix with a wooden spoon until dough forms.
Place on clean, lightly floured board and knead for 5-10 minutes by hand, or 6-7 minutes by using dough hook until smooth, elastic and dough passes the 'window' test – stretch a small piece of dough and if it forms a transparent window without breaking, the dough is ready.  I prefer to knead bread dough fairly vigorously by hand; bring the dough towards you by folding it, then move it away using the heel of your hand and repeat this fairly quickly.  I add a light sprinkling of flour when the dough starts to stick.
1-2 minutes before the end of the kneading time, I add the fruit and nuts; pat the dough out into a round and add the fruit and nuts in the middle then fold over dough and knead as per above.  The fruit and nuts do tend to fall out a bit but just place them back into the dough and continue kneading.
Form the dough into a round and place the bowl over the dough for ten minutes to rest.  Grease a 20cm round, metal pie tin.
Cut the dough into pieces (I got 9 rolls out of mine) and form into rounds, placing into the prepared tin.  Dust rolls with flour and cover with plastic wrap and a damp tea towel and store in a warm place (I put them on top of the stove) for 50 minutes, or until risen and doubled in size.  Ten minutes before the end of rising, preheat the oven to 200C (190C fan forced).
Bake rolls in the oven for 20-22 minutes, or until golden brown on top and hollow when tapped on the top.  Remove from the oven and place tin on cooling rack for 5-7 minutes then remove buns out of tin onto the cooling rack.
Brush with glaze while still warm.
Glaze:
Place 2 tspns raw sugar and 1/3 of a cup of water into a small pan.  Bring to the boil over medium-high heat and simmer for 5 minutes until mixture has reduced slightly.
Makes: 9 medium sized rolls
Adapted from: Laucke
Recipe for brioche:
500g Laucke Sweet Bread & Bun Mix
4g yeast sachet
Add ins:
6 large eggs, at room temperature, lightly beaten
2 x 20ml tblspns raw caster sugar
200g unsalted butter, at room temperature
100g chopped dark chocolate or chocolate chips (I used a combination)
1 egg with a splash of milk, whisked
1 tspn raw sugar
You will need either a bread machine (which I don't have) or a Kitchenaid or something similar with a dough hook to make this recipe – I used a Kitchenaid.
Cut butter into small 1cm cubes.  Grease a large, glass bowl and set aside.  also grease a 24cm x 10cm loaf tin and line with baking paper and set aside.
Add flour, sugar and yeast to the mixing bowl and mix on speed '1' to combine for 30 seconds.  Make a well in the centre of the flour and add beaten eggs then mix on speed '2' for 4 minutes, or until a smooth dough forms.
Add 1/3 of butter at a time while mixer is running on speed '2', making sure the butter is combined after each addition, for 8-9 minutes, or until dough looks elastic and is pulling away from the sides of the bowl.  Two minutes before the end of the kneading time, when the dough is is starting to look like it's almost finished, add the chocolate chips while the motor is running.
Transfer dough to prepared bowl, cover with plastic wrap and place in a warm, still place until doubled in size, for 1 1/2 to 2 hours.
Punch dough down while in bowl, then place on a clean, lightly floured surface, kneading until smooth for about a couple of minutes (the dough will be quite sticky to start with), then place in prepared loaf tin, patting into shape.  Cover with plastic wrap and place in a warm, still place for 40 minutes or until risen considerably.
About ten minutes before the end of rising time, preheat oven to 180C (170C fan forced).  Brush the top of the loaf with egg wash and sprinkle with raw sugar.
Bake loaf for 45 minutes, or until golden brown – the loaf will rise quite a lot while baking.  Make sure to check the loaf is cooked through before removing from the oven completely as it can look nice and brown on the outside and be uncooked in the middle.  It's a bit like cake, more than a bread – I had to check it with a skewer a couple of times and it wasn't quite cooked so I put it back in the oven for a while longer.
Cool in tin on a wire rack for ten minutes then carefully remove the loaf to wire rack to cool.
Serves: 10
Adapted from: Laucke and Gourmet Traveller