Blondies are becoming so diverse now with many different flavours; butterscotch, toffee and pecan, cherry and white chocolate, and now, peanut butter.  I don't need much of an excuse to use peanut butter – slathered between fresh bread for an impromptu lunch is fine by me and has been since I was little.  Peanut butter just makes my day better.
So.  When I saw these little morsels by the lovely Rachel Allen I just had to make them.  I did have a moment of wondering which type of peanut butter I should use – the ongoing battle of natural peanut butter with no additives -v- the sugary, salty kind.  I think you bakers will know which one I used, it's obvious really (I always have both on stand-by for this kind of moral dilemma as I can't commit to either one).
I had one of these not too long out of the oven with a cup of coffee and it was delightful – nutty and fudgy with sweet bites of white chocolate.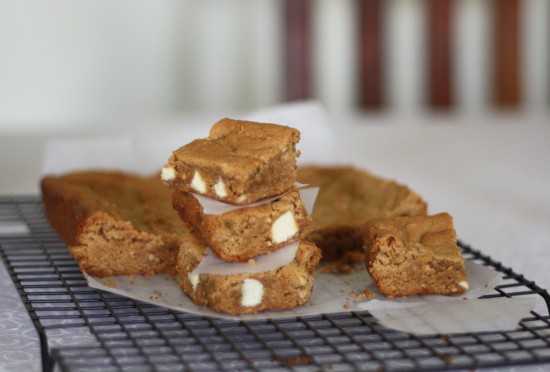 Recipe:
125g plain flour
1 tspn baking powder
1/4 tspn mixed spice
100g unsalted butter, at room temperature
150g crunchy peanut butter, at room temperature
175g brown sugar
1 large egg (59g whole weight), lighten beaten
1 tspn vanilla or maple extract
80g good white chocolate, chopped
Preheat the oven to 170 degrees C.
Grease a 20 x 20cm square cake tin and line with greaseproof paper, making sure to leave some over the sides for easier removal after baking.
Sift the flour, baking powder and mixed spice into a bowl and set aside.
Cream the butter and peanut butter in a large bowl using an electric mixer on medium speed until very soft and creamy (around 2 minutes).  Add sugar, egg and vanilla and beat just until combined.  Add dry ingredients and chocolate and stir with a wooden spoon until combined.
Spoon the mixture into prepared tin and bake in oven for 25–30 minutes, or until golden brown and blondie is almost firm in the centre – it should be a bit soft ideally.
After baking, allow to cool completely in tin, before removing brownie onto cutting board and slicing into squares.
Serves: 16 squares
Slightly adapted from: UK TV Food