Here's a sexy little number I made for Christmas Day – white chocolate blondies with fresh cherries.  Chewy, sweet and a burst of fresh cherry with every bite – they were lovely.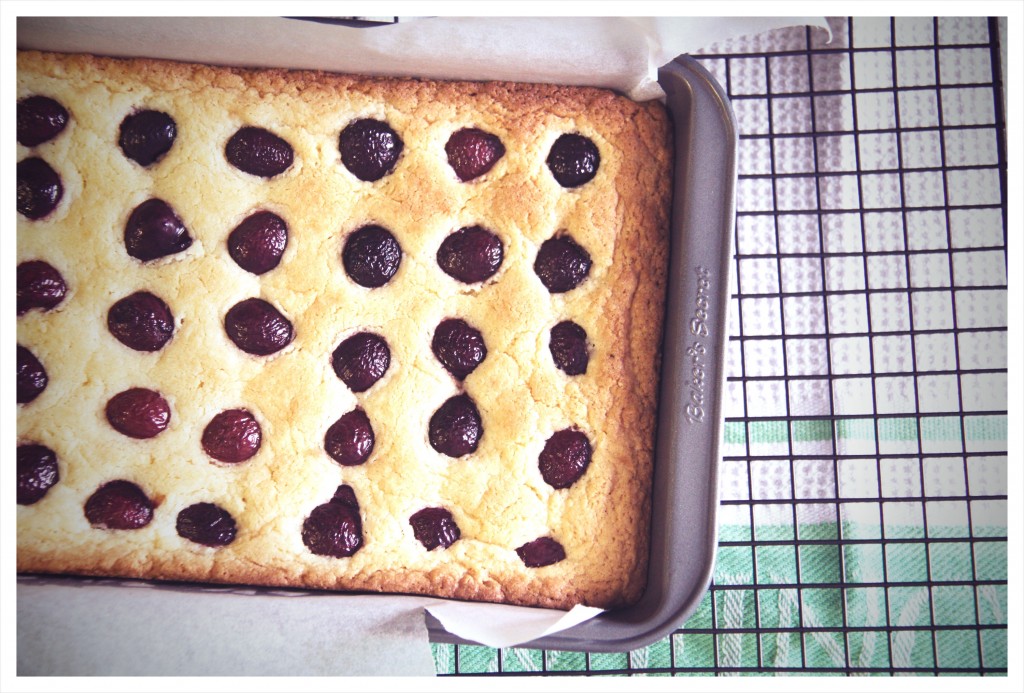 Recipe:
100g unsalted butter, chopped
180g good white chocolate, chopped
3/4 cup raw caster sugar
2 large eggs, lightly whisked
1 tspn pure vanilla essence
3/4 cup self raising flour, sifted
3/4 cup plain flour, sifted
1 cup pitted fresh or frozen cherries
Icing sugar to dust over if desired
Preheat oven to 180C (160C fan-forced).  Grease and line with baking paper an 18cm x 28cm rectangular slice pan.  Allow some overhang over the sides of the pan to allow for easier removal.
Melt butter and chocolate in a heatproof bowl over a saucepan of gently simmering water.  Remove from heat and mix to combine – set aside to cool for a few minutes.
Place cooled chocolate mixture, sugar, eggs, vanilla essence and flours into a large mixing bowl and stir to combine.  Spoon into prepared pan (mixture may appear split at this point – don't worry) and smooth top with a butter knife.  Press halved cherries into mixture.  Bake for 30 minutes or until edges are firm and golden yet top is slightly soft still.
Cool in pan before removal and dust with icing sugar if you like.
You can use frozen cherries if it's not cherry season where you are.
Serves: 15 pieces
Adapted from: taste.com