I love nothing better than a bowl of spicy, hearty dahl and warm naan bread – comfort food at it's best.  This one has some sweet potato in it, just to sweeten things up a bit.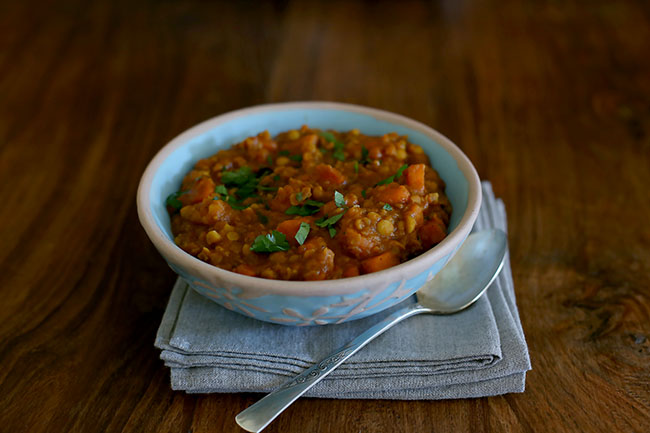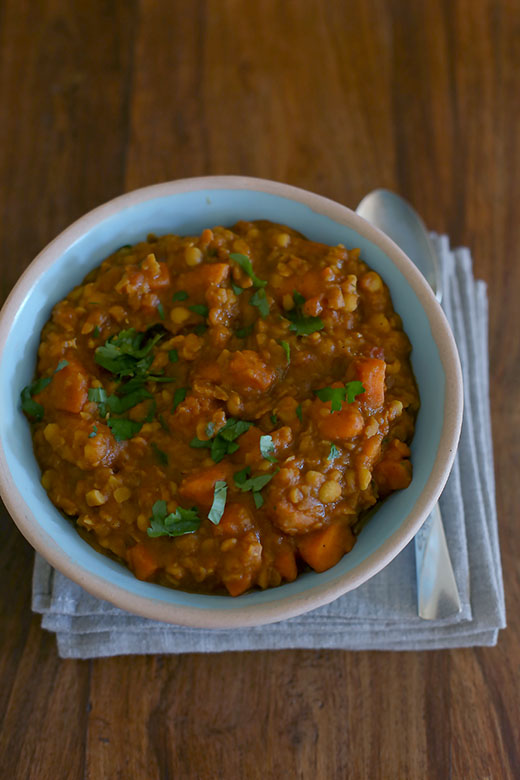 Recipe for sweet potato & split pea dahl:
Note: this recipe requires overnight soaking of the split peas before cooking
250g yellow split peas, rinsed and drained then soaked overnight covered in water
1 tblspn butter
1 tblspn oil
1 large red onion, diced
2-3 cloves garlic, crushed
2 tspns Garam masala
1 tspn curry powder
1 tspn ground cumin
1 tspn turmeric
1/4 tspn ground coriander
Pinch chilli flakes (to taste)
2 carrots, diced
3 cups just boiled water
400g can chopped tomatoes
1 salt reduced vegie stock cube
1 tspn raw sugar
Freshly ground sea salt & black pepper
360g orange sweet potato, peeled & diced into 2cm cubes
60g baby spinach or a handful flat leaf parsley, chopped
Greek Style Yogurt and naan, to serve
Drain then rinse split peas in a fine colander or sieve and set aside to drain.
Add butter and oil to a large saucepan; add in onion, garlic, spices and seasoning.  Gently sauté covered, stirring regularly, for a few minutes until spices are fragrant.  Add in the carrots and turn up heat to high/medium.  Continue to sauté, stirring regularly, for 2 minutes..
Gradually pour in 2 cups of just boiled water, the tinned tomatoes, crumbled stock cube, sugar, split peas and further seasoning to taste – stir to bring up the browned bits on the base of the pan.
Bring to the boil then immediately turn down to a medium/low simmer, covered, for 40 minutes, making sure to stir regularly.  Add in sweet potato and a further cup of boiled water, stirring through then cover and continue simmering for 40-50 minutes, or until split peas are tender and sweet potato is soft and dahl is thick – make sure to stir regularly as it can stick to the base of the pan at this point.  If it still seems a bit thin 15 minutes or so before the end of cooking time, remove the lid and use a splatter guard to reduce it a bit.
Season further if you think it needs it.  Remove dahl from the heat and stir through baby spinach or parsley.
Serve with dollops of yoghurt and warm naan bread.
Serves: 4
Note: dahl freezes well.