I love nothing better than a bowl of spicy, hearty dahl and warm naan bread – comfort food at it's best.  This one has some sweet potato in it, just to sweeten things up a bit.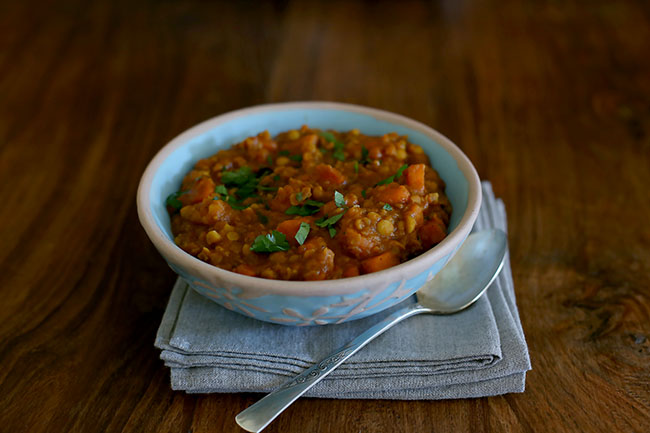 Recipe for sweet potato & split pea dahl:
Note: this recipe requires split peas being soaked in water overnight before cooking
250g yellow split peas, rinsed and drained then soaked overnight covered in water and stored in the fridge
1 tblspn butter
1 tblspn oil
1 large red onion, diced
2-3 cloves garlic, crushed
2 tspns Garam masala
1 tspn curry powder
1 tspn ground cumin
1 tspn turmeric
1/4 tspn ground coriander
2 x 100g carrots, diced
3 cups just boiled water
400g can chopped tomatoes
1 salt reduced vegie stock cube
1 tspn raw sugar
Freshly ground sea salt & black pepper
360g orange sweet potato, peeled & diced into 3cm cubes
60g baby spinach or a handful flat leaf parsley, chopped
Greek Style Yogurt and naan, to serve
Drain then rinse split peas in a fine colander or sieve and set aside to drain.
Add butter and oil to a large saucepan; add in onion, garlic, spices and seasoning.  Gently sauté covered, stirring regularly, for a few minutes until spices are fragrant and onion has softened.  Add in the carrots and turn up heat to high/medium.  Continue to sauté, stirring regularly, for 2 minutes..
Gradually pour in 2 cups of just boiled water, the tinned tomatoes, crumbled stock cube, sugar, split peas and further seasoning to taste – stir to bring up the browned bits on the base of the pan.
Bring to the boil then immediately turn down to a medium/low simmer, covered, for 40 minutes, making sure to stir regularly to stop it catching on the base.  Add in sweet potato and a further cup of boiled water, stirring through then cover and continue simmering for 30-40 minutes, or until split peas and potato are tender and dahl is quite thick – make sure to stir regularly.  The longer you soak the split peas in the initial step above, the faster it will cook.
Season further if you think it needs it.  Remove from the heat and stir through baby spinach or parsley.
Serve with dollops of yoghurt and warm naan bread.
Serves: 4
Note: freezes well.