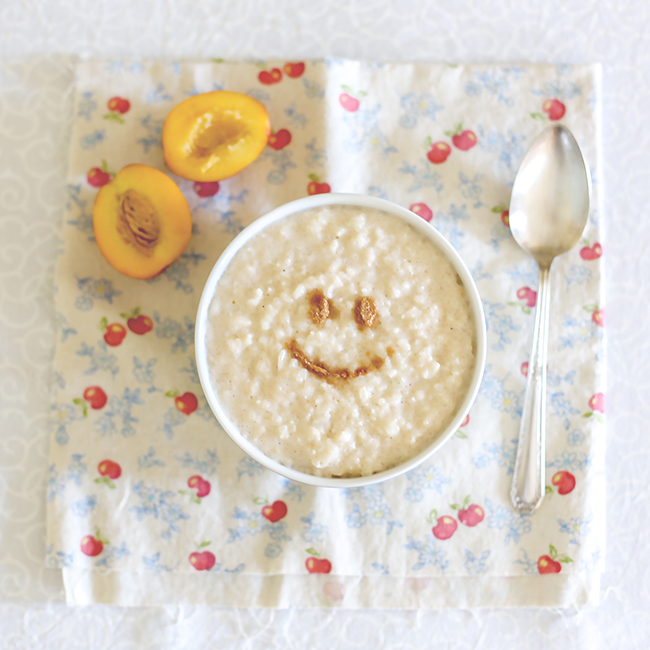 Rice pudding is one of those comfort desserts I love, yet I've never been able to find a decent recipe until today. This turned out creamy and lush and full of childhood cinnamon and vanilla flavours – if you really wanted to turn it up a notch, you could replace 1 cup of the milk with heavy whipping cream, as per the original recipe.
Recipe for stove top rice pudding:
3/4 cup basmati rice
1 1/2 cups water
A couple of grinds of sea salt
4 cups full cream milk
1/2 cup white caster sugar
1/4 tspn ground cinnamon
1/4 tspn ground nutmeg
1 tspn vanilla bean paste
2 tspns cinnamon sugar (for dusting)
Rinse rice well, drain then add to a greased (I use butter) large, heavy based saucepan with water and salt – the greasing cuts down on the pudding sticking to the base of the pan.  Bring to boil then immediately turn down to low and cover for 10 minutes to cook by absorption.  Add milk, sugar and spices, stir through, then turn heat to medium high, bring to a simmer then continue to gently simmer over medium heat uncovered for 35 minutes, stirring regularly, until mixture has reduced and is creamy.  Five to ten minutes before the end of cooking time, stir through vanilla bean paste.
Pour pudding into container or serving dishes, place plastic wrap directly over the top, and sit for a bit to either serve warm or allow to cool to room temperature and store in the fridge for up to 2 days.
Serve with cinnamon sugar sprinkled over the top.
This will thicken on standing.
Serves: 6
Adapted from: Epicurious