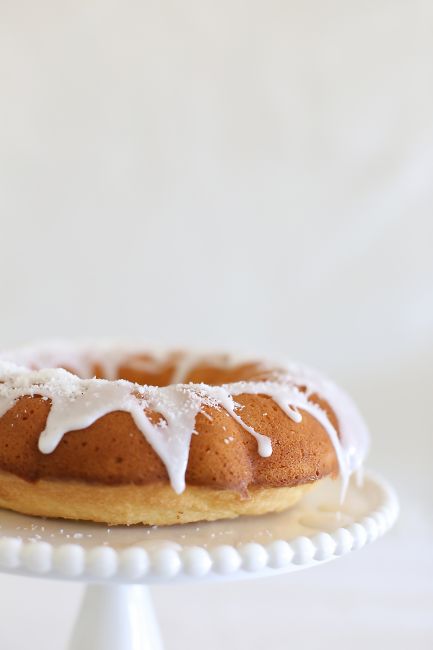 So I made a little bundt cake today – I say little, because I halved this awesome recipe but only had a 24cm bundt tin and fretted for half an hour while it was baking.  It turned out perfectly though!  The crumb is amazing – fairly dense yet somehow light and fluffy and the flavour is pleasingly full of coconut.
I made a scant amount of glaze because I'm not a huge fan of icing so feel free to double or triple if you prefer.
This makes a lovely teatime cake!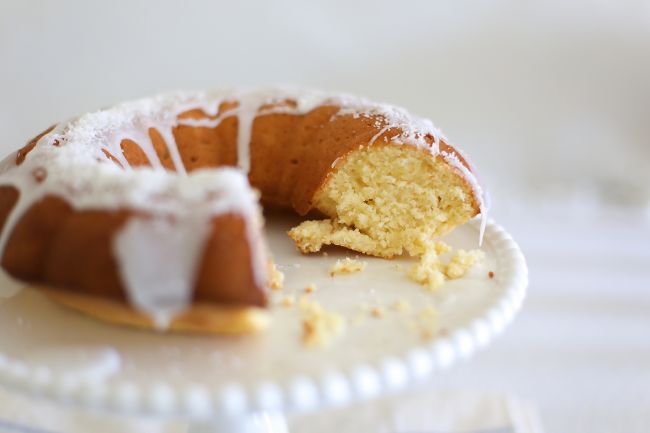 Recipe for coconut bundt cake:
1 1/4  cups plain flour
1/4 cup cornflour
1/2 tspn baking powder
A couple of grinds of sea salt
120g unsalted butter, softened at room temp
1 1/4 cups caster sugar
3 large eggs
1/2 tspn vanilla extract
1 tspn coconut essence
1/2 cup coconut milk + extra (see glaze)
1 cup desiccated coconut
Glaze:
1/2 cup icing sugar, sift if needed
20mls coconut milk
1/4 tspn coconut essence
1 tblspn desiccated coconut
Preheat oven to 180C.  Butter a bundt tin really well (I used a 24cm bundt tin because that's all I had however this recipe suits a smaller one, around 20cm).
Sift flour, cornflour, baking powder and sea salt into a medium sized bowl.
Add butter and sugar to a large bowl; use electric mixer to beat on medium speed for 2-3 minutes, until light and fluffy.  Add in vanilla and coconut essence then eggs, one at a time, beating on low speed just until combined.  Use a wooden spoon to alternately fold through flour mixture, coconut milk (shake or stir first) then desiccated coconut, just until combined.
Spoon into prepared tin, level the top and bake for 30-35 minutes, or until golden brown, top is firm and a skewer inserted near the middle comes out clean.
Lay a tea towel over the top of the tin then cool the cake in the tin on a cooling rack for 30 minutes then turn out onto rack and cool completely before glazing and decorating.  I used a rubber spatula to help move the cake away from the sides and middle of the pan before turning out.  See here if you have any problems.
Glaze:
Add icing sugar, 20mls of the coconut milk and essence to a small bowl and briskly stir until drizzling consistency – add more coconut milk if you prefer.  Drizzle over the top of the cooled cake and scatter coconut over the top.
Serves: 8
Adapted from: Food