It's the time of year for chicken soup!
Here in Queensland we've gone from the longest, hottest summer to sudden and very icy cold temperatures and this soup cheered me right up recently.
It's said that chicken soup has magical healing properties and I do feel that's true, however in order for this to happen you need to poach the chicken breasts in some stock then use the chicken enhanced stock as the base for the soup.  It makes all the difference flavour-wise.
This soup is packed full of vegies and has just a hint of ginger and chilli; perfect for a cold day.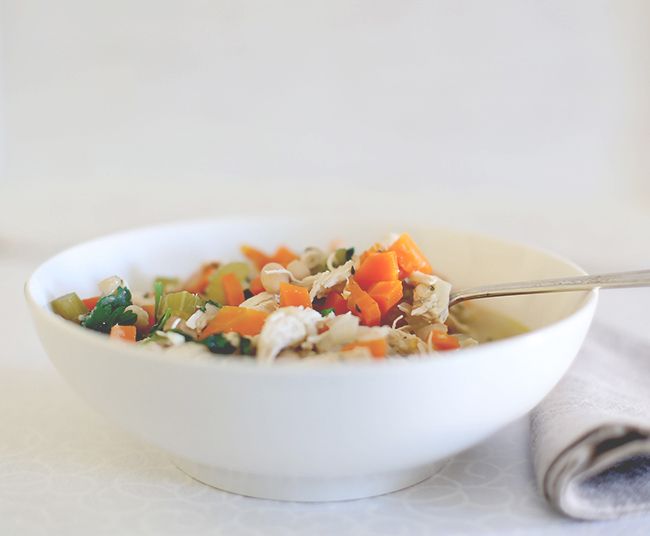 Recipe for chicken white bean soup with ginger & chilli:
4 cups low sodium, hot chicken stock (I use vegan, natural liquid stock or cubes)
2 organic, skinless, boneless, whole chicken breasts, trimmed (around 450-500g)
1 x 20ml tblspn butter
1 x 20ml tblspn oil
Small pinch chilli flakes
1 heaped tspn fresh ginger, grated
1 medium red onion, halved & sliced
3 cloves garlic, crushed
3 large stalks organic celery, sliced
2 carrots, peeled & diced
2 heaped tspns fresh thyme leaves, finely chopped
2 dried bay leaves
1 x 400g tin cannellini beans, drained and rinsed
Handful flat leaf parsley, chopped
Freshly ground sea salt and black pepper
Serve with bread rolls or crackers
Bring stock to simmer over medium heat in a heavy based, large saucepan.  Add in chicken breasts and simmer, covered, over low heat for 5 minutes.  Remove pan from heat and set aside with the lid on for 20-25 minutes, depending on their size, and until they're cooked through.
Remove chicken breasts with tongs from the poaching liquid and place into a shallow dish.  Pour the stock through a fine sieve into a large glass jug and set aside, making sure you keep the saucepan for the rest of the soup.
Add butter and oil to the saucepan and bring to medium/high heat – add chilli flakes, ginger, onion, garlic, celery, carrots, thyme and seasoning to taste, gently sautéing with lid on, until onion is transparent and softened – stir occasionally.
Meanwhile, use 2 forks to shred the chicken into small pieces.
Increase heat to high, pour in 3 cups of the stock and bring to a high simmer covered, then turn down to a low simmer for 4-5 minutes, until carrots are tender.  Add the beans and the cooked chicken back into the soup with the remainder of the stock and continue simmering on medium heat until heated through.  Remove bay leaves then stir through parsley after you remove the pan from the hotplate.  Season further if needed.
Serves: 4