On needing to use up oats, peanut butter chips and raisins and looking for the perfect oatmeal raisin cookies one night, I decided to go directly to a good source and found this great recipe (is anybody else so confused by the over abundance of recipes online now?  I know I know, I'm part of the problem).
Anyway, I tweaked things a bit, as you do, and found these chewy, spicy and soft and well, just awesome really.  Great with a cuppa.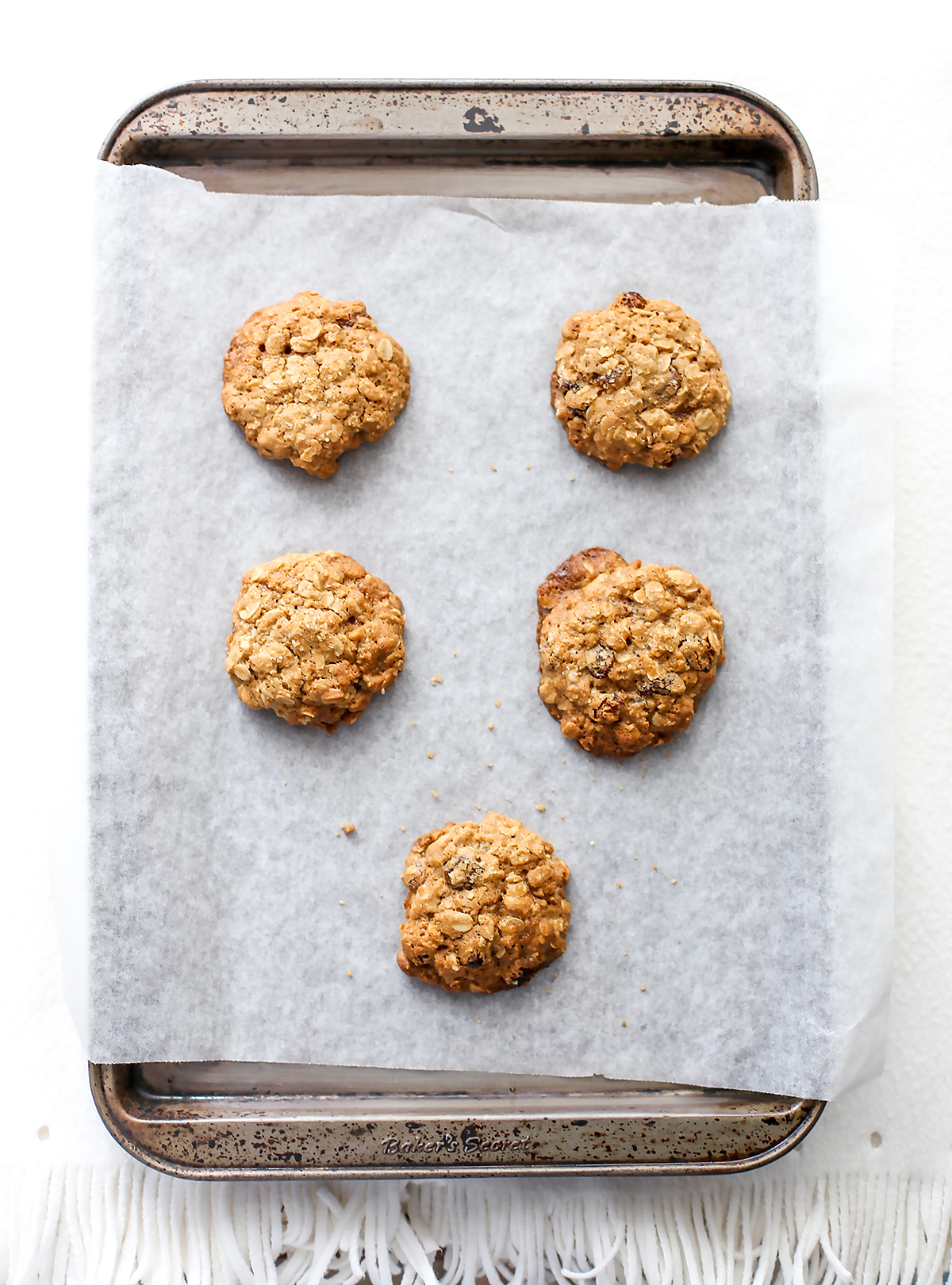 Recipe for oatmeal raisin cookies:
3/4 cup plain flour
1/2 tspn bicarbonate of soda
1/2 tspn ground cinnamon
1/2 tspn mixed spice
1/4 tspn ground nutmeg
A couple of grinds of sea salt
115g unsalted butter, softened at room temperature
2/3 cup (125 grams) brown sugar, packed
1 large egg
1 tspn vanilla concentrated extract
1 1/2 cups (120 grams) natural rolled oats (not instant)
80g raisins +  40g peanut butter chips (or 120g raisins)
Coarse sugar, for sprinkling
Find 2 flat baking trays and line with baking paper.
Add flour, sifted bicarb of soda, spices and salt to a large bowl and whisk to combine.
Use electric mixer to beat butter, sugar, egg and vanilla in another mixing bowl on medium speed for 1-2 minutes or so, until smooth and creamy.  Add dry ingredients to the butter mixture and fold in a few times then add the oats, raisins and PB chips, folding in until it forms a ball (don't over-beat).
Bring dough together in a round and wrap with plastic wrap and chill in the fridge for an hour.  Preheat oven to 180C.
Portion dough into 1/4 pieces then each piece into 5 rounds, flatten slightly and place onto prepared baking sheets, 4cm apart.  Sprinkle cookies with coarse sugar.
Bake on middle rack for 10 minutes, or until golden at the edges but slightly undercooked on the top – keep the other tray chilled in the fridge while the first tray is baking then bake when the first lot is finished.  Allow to sit on baking trays for 5 minutes then place cookies on cooling racks to cool.
Makes: 20
Note: cookie dough can frozen – divide whole cough into 1/4 pieces, shape into rounds, wrap in plastic wrap and store in an airtight freezer bag.  Defrost in the fridge and make as above.  Alternately you can freeze in individual cookie portions and bake from frozen.
Adapted from:  Smitten Kitchen