I love Speculoos (cookie) butter and often smash it between Speculoos cookies but am always on the lookout for baking recipes using it.  So I found this recipe for cookie butter chips, then whipped up a spicy sweet loaf cake.
You'll need 24 hours for the Speculoos chips to set before you make the cake.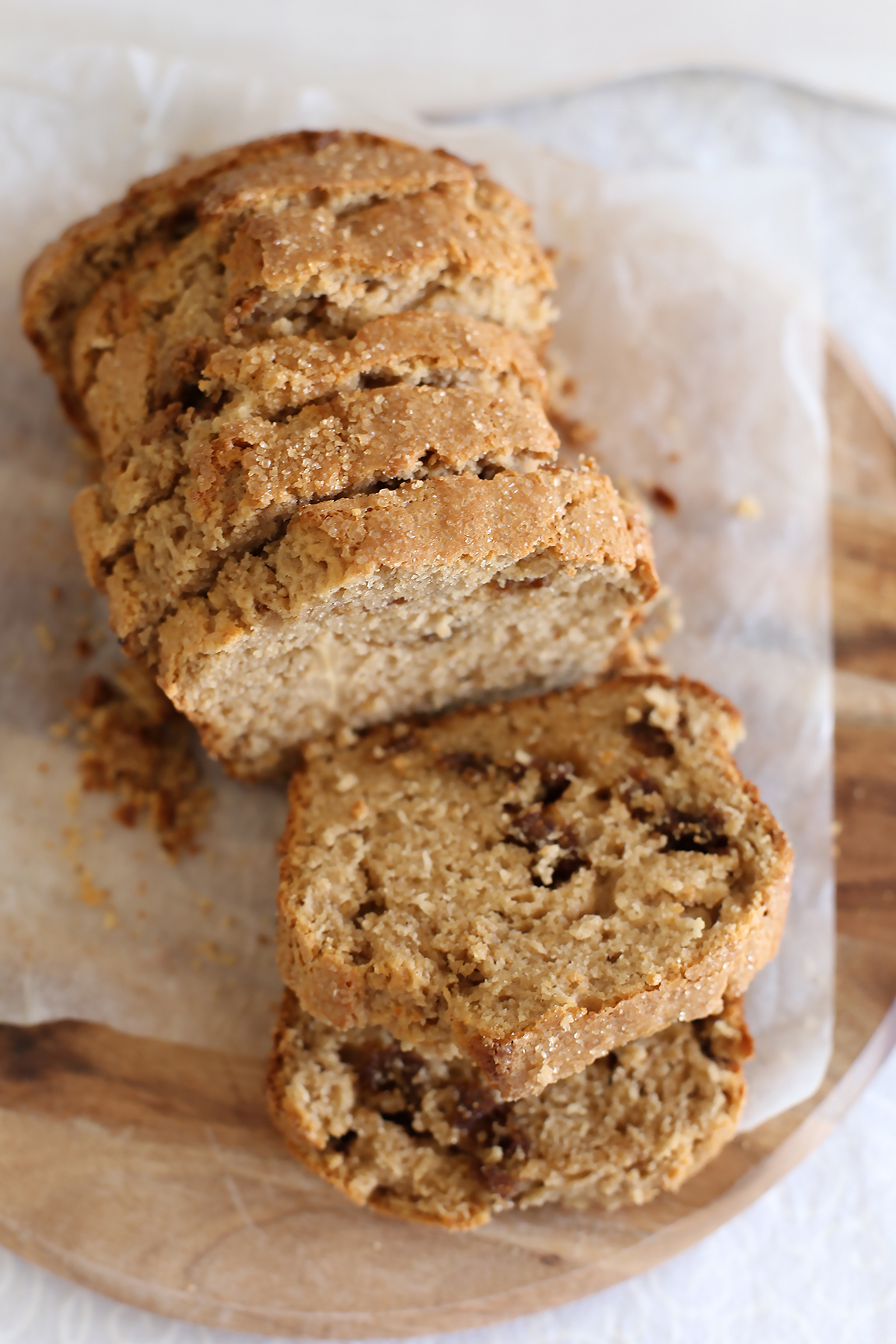 Recipe for Speculoos (cookie butter) chip loaf:
Speculoos chips:
120g Speculoos or cookie butter, at room temperature
Piping bag or zip-lock sandwich bag with corner snipped
Loaf:
1 3/4 cups white plain flour
2 tspns baking powder
1 tspn ground cinnamon
1/2 tspn mixed spice
1/2 tspn ground nutmeg
Grinding of sea salt
3/4 cup raw caster sugar
1/4 cup brown sugar, loosely packed
Speculoos butter chips (make sure not to leave out of the freezer too long before using)
2 large eggs
1 tspn vanilla concentrated extract
3/4 cup buttermilk
90g unsalted butter, melted and cooled
Demerara sugar
Speculoos chips:
Place cookie butter into piping bag or zip-lock bag and squeeze down by twisting the top.  Add baking paper to a baking pan then pipe small swirls or dots of cookie butter (same size as chocolate chips that you buy) onto prepared baking pan.  Store covered in plastic wrap in the freezer for 24 hours before use.
Loaf:
Preheat oven to 180C.  Grease a loaf tin and add baking paper to the base and up the sides.
Sift flour, baking powder, spices and sea salt into a large bowl and whisk with sugars to combine, making sure to remove all the lumps from the brown sugar.
Whisk eggs, vanilla extract, buttermilk and cooled melted butter until combined.  Toss cookie chips through flour mixture then immediately add wet ingredient to dry ingredients, folding gently until just combined.
Pour into prepared loaf tin, smooth top with a butter knife then sprinkle over Demerara sugar; bake for 25 minutes, turn pan around then bake for a further 20 minutes, or until golden brown, top is firm and skewer inserted into the middle comes out clean.
Cool in tin for around 8 minutes then remove onto a wire tray.  Serve warm or at room temperature with butter.
Serves: 8
Inspired by and adapted from: Rachel Cooks