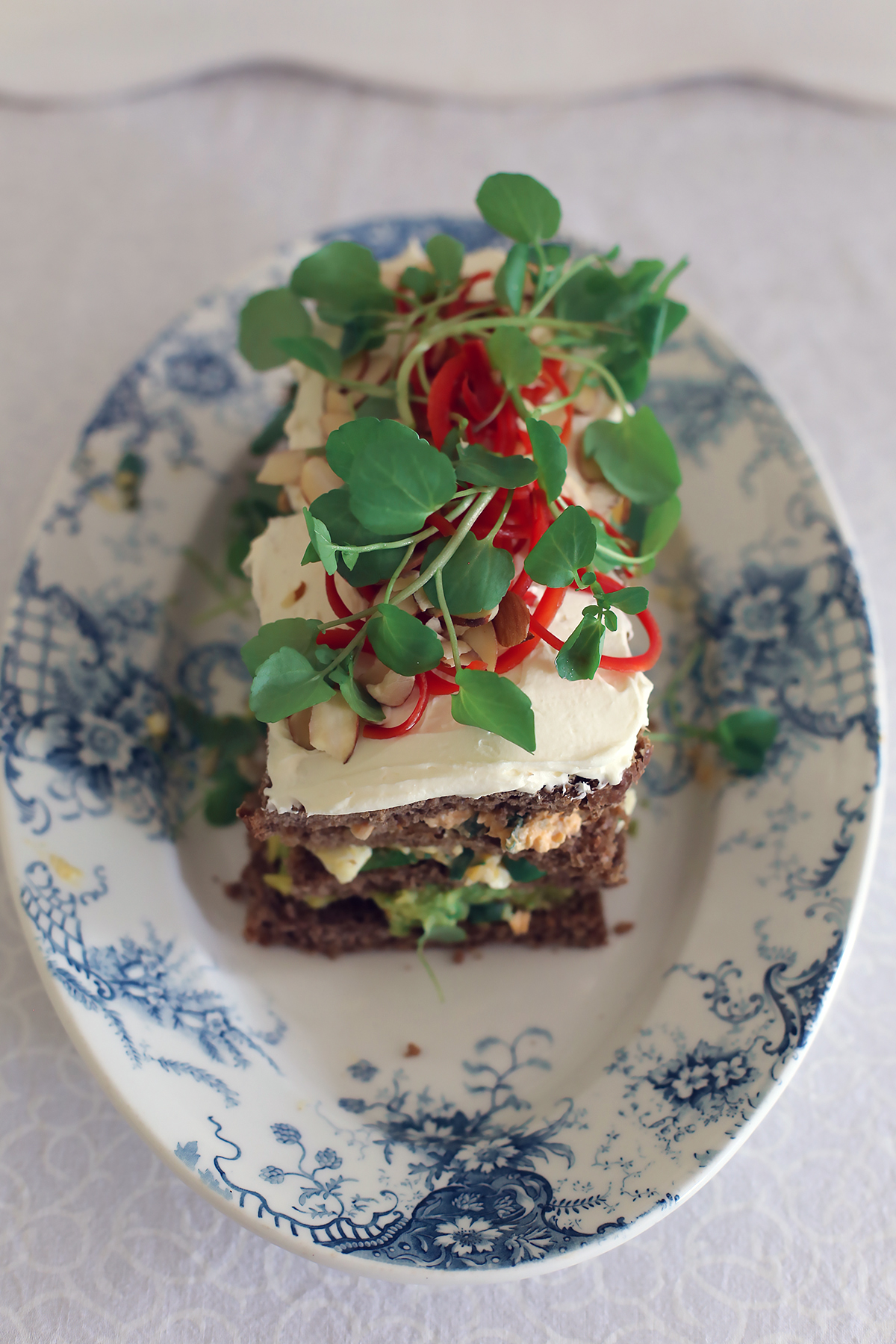 I've always wanted to make one of these as I'm a huge sandwich fan and I love all things Swedish and Scandinavian.  I haven't made it exactly as you would a traditional smörgåstårta, as I wanted to use ingredients I had already.  However, I tried to think of traditional Swedish things while putting it together; making one layer with a fish filling and using sour cream, greens and rye bread.
It's very easy to whip up, is delicious and is a fun take on sandwiches for lunch for your family or for a BBQ or party.  One important thing though – make sure your fillings don't have too much liquid as the cake will end up on the soggy side.
Nourish atelier is where I adapted mine from, with information on traditional ingredients and a recipe video.

Recipe for Swedish sandwich cake:
8 slices fresh dark rye bread
Unsalted butter
Topping:
2 x 20ml tblspns sour cream
80g spreadable cream cheese, at room temperature
Handful watercress
A few cherry tomatoes, halved
Radish, thinly sliced or red capsicum curls
Handful flaked natural almonds
Egg salad:
2 eggs, hard boiled, mashed with a fork
1 x 20ml tblspn mayonnaise (a non-sweet kind like Thomy)
1 tblspn finely sliced green part of spring onions & continental parsley
Freshly ground sea salt & black pepper
A few sprigs watercress
Guacamole:
1 avocado
Pinch chilli flakes
Small squeeze lemon juice
Freshly ground sea salt & black pepper
1 tblspn spring onions, sliced (white & green part)
A few thinly sliced radish & 1/2 a Lebanese cucumber (can replace radish with few halved cherry tomatoes)
Seafood filling:
A few slices of smoked salmon, small tin smoked tuna slices or small tin sandwich salmon (drain really well)
1 tspn lemon zest
40g spreadable cream cheese, at room temperature
Freshly ground sea salt & black pepper
Mix the sour cream and cream cheese for the topping in a small bowl until combined and spreadable.
Mix the egg salad (except for the watercress) in a small bowl.
Use a fork to mash the avocado in another bowl then mix through the remainder of the guacamole ingredients.
If using smoked salmon slices or tuna slices for the seafood filling, leave those aside and stir the lemon zest, cream cheese & pepper.  If using the salmon sandwich filling, mix that with the cream cheese etc.
Slice crusts off the bread so the slices are the same size.  Butter each slice and place 2 pieces next to each other on a board or serving plate (what you'll use to serve it).  Remember to season well between each layer.  Spoon on guacamole then add the cucumber and radish slices on top; place the next 2 pieces of bread on, then spoon on the egg filling with a few sprigs of watercress; then the next 2 pieces of bread over the top, spooning over the salmon filling, then the last 2 pieces of bread over the top, buttered side down.  Smooth over cream cheese topping, much like you would with icing, then pile on the toppings.
Best served straight away.
Serves: 2 large, 4 tea sized
Adapted from: nourishatelier
Red pepper curls how-to from: Chef Don's Kitchen