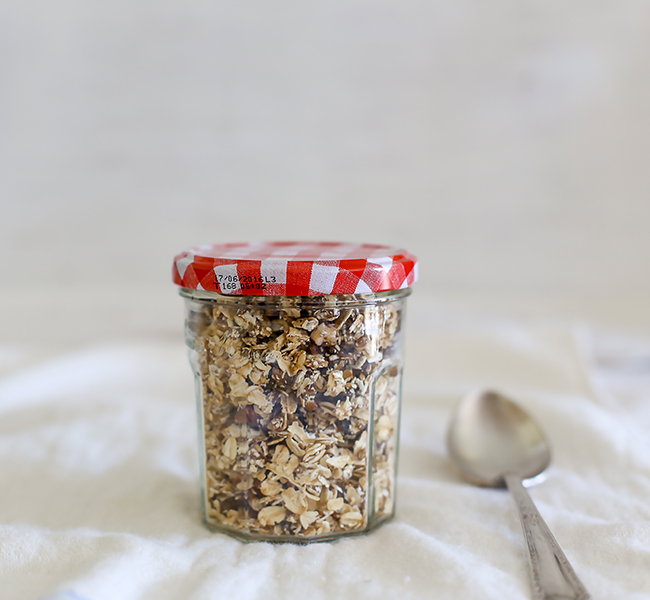 I know toasted muesli is super popular and I really like it myself, but there's just something so wholesome about raw muesli.  Combined with dates, spices and golden syrup, this muesli has a nutty, chewy texture and is reminiscent of sticky date pudding.
Because of the dates, this is quite high in sugar, so you could think of it as one serve of fruit if you like.
Recipe for sticky date raw muesli:
1/4 cup golden syrup (Lyle's, if you can get it)
1 tspn vanilla concentrated extract
1 tspn mixed spice
Rounded 1/2 tspn ground ginger
Rounded 1/2 tspn ground nutmeg
A few grinds of sea salt
120g dates, finely chopped
3 cups whole oats
90g pecan nuts
Preheat oven to 160C.  Place pecan nuts onto a baking paper lined baking tray and toast for 6-8 minutes, or until fragrant.  Set aside to cool before chopping.
Warm syrup, vanilla, spices and salt in a small pan over low/medium heat for a few minutes, stirring occasionally until spices and salt have dissolved and is of liquid consistency.
Add oats to a bowl then add the chopped pecans and finely chopped dates, stirring until dates are distributed throughout the oats and not clumped together, then mix through the wet ingredients until completely incorporated.  Sit aside to cool completely until storing.
Keep in an airtight container in the fridge (in warmer weather) for 2 weeks or at room temperature (at colder temperatures) for up to a week.
Makes: 540g (around 8-10 servings)