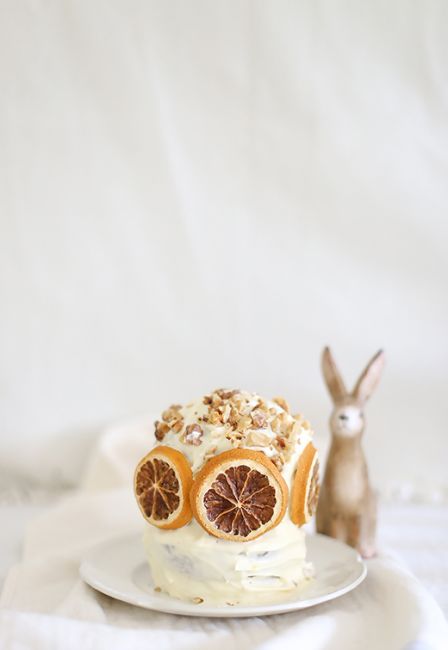 Carrot cake always reminds me of the uni refect, 2nd year.  The vegetarian café I'd often go to served the best carrot cake with lashings of cream cheese icing and good coffee.  I'd kid myself that carrot cake was good for me, what with all the carrots and walnuts and things.
However.  After stacking on 10kg, I realised all that carrot cake (and chips, beer etc) wasn't really doing my waistline any good so I had to cut back and start doing real exercise instead of just clubbing all night and playing pool all day 

 I remember my student nursing uniforms feeling tight and becoming very gloomy over it, especially after an elderly female patient kindly told me I was a sturdy girl.
I think it's unfair to blame the carrot cake though and I'll always have fond memories of it, so here's my version in a mini form for more, ahem, portion control.  It has that lovely soft, spicy texture and flavour you expect from a carrot cake and I didn't skimp on the cream cheese icing.
It's appropriate for Easter too if that's your thing (carrots = bunnies = Easter).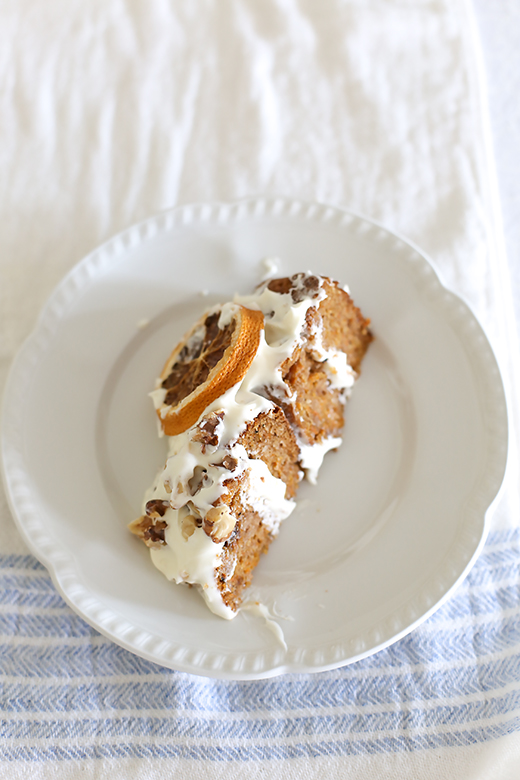 Recipe for Easter mini carrot layer cake with cream cheese icing:
40g walnuts
1 cup plain flour
1/2 tspn bicarbonate of soda
1/2 tspn baking powder
1 tspn mixed spice
1/2 tspn ground cinnamon
1/2 tspn ground ginger
1/4 tspn ground nutmeg
A grind of sea salt
1 x 20ml tblspn desiccated coconut
1/2 cup brown sugar, packed
3 x 20ml tblspns maple syrup
Just under 1/2 cup oil
2 large eggs
1/2 tspn vanilla or maple essence
130g carrots, peeled and grated finely
Icing:
125g (1/2 a pack) cream cheese, softened at room temperature
20g unsalted butter, softened at room temperature
1 tspn lemon juice
1 tspn lemon zest
1-2 cups icing sugar, sifted
1 tspn cornflour
Dried orange slices, for decoration (optional)
Icing:
Use electric mixer to beat the cream cheese and butter on medium speed for a minute, or until creamy.  Add in zest, juice, icing sugar and cornflour, beating on low speed just to combine then beating on medium speed until creamy and smooth.  Set aside.
Preheat oven to 175C.  Place walnuts onto a flat baking tray lined with baking paper and toast for 7 minutes, or until fragrant.  Roughly chop walnuts then set aside 1/2 for the topping.
Grease 2 x 10cm (smaller) cake tins and line bases with baking paper.
Sift flour, raising agents and spices into a large bowl – add 1/2 the walnuts, salt, coconut and sugar and whisk to combine, making sure you get all the lumps out of the brown sugar.  In a jug, add syrup, oil, eggs and essence and whisk to combine well.  Pour wet ingredients into dry and fold a few times; then fold in grated carrot until incorporated (don't over-beat though).
Pour evenly into prepared cake tins, smooth the tops and bake in preheated oven for 30-35 minutes, or until the tops spring back when pressed gently and a skewer inserted into the middle of each cake comes out clean.
Place cake tins onto cooling rack for 5 minutes then run a butter knife around the sides of each cake and remove onto cooling rack to cool completely.  I placed the cake that I used for the lower layer upside down so the top flattened – you can always slice the very top of it to make it flatter after cooling.
Once the cakes have completely cooled, use a sharp knife to slice each cake in half (try to do this evenly, I didn't and the cake turned out a bit wonky)..
Ice cake between each layer, ice the top and sides and add extra chopped walnuts and/or some dried orange as decoration.
Serves: 4