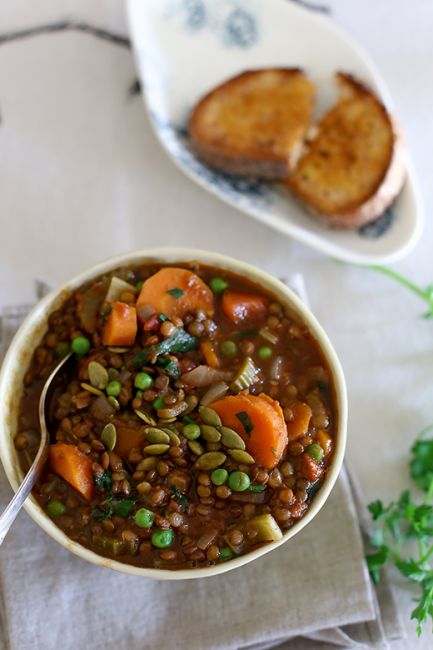 So in the interests of being healthy this January due to some questionable food choices recently, I made a pot of lentil soup!
Lentil soup will always be one of those comfort foods for me; this one's thick, hearty, spicy and was brilliant with toasted, buttered sourdough.

Recipe for spicy lentil & vegie soup:
1 x 20ml tblspn grapeseed or macadamia nut oil
1 x 20ml tblspn unsalted butter or cooking margarine
1 medium onion, diced
3 cloves garlic, crushed
2 tspns fresh thyme, chopped finely
Decent pinch chilli flakes or 1 fresh red chilli, diced
2 tspns ground cumin
Freshly ground sea salt & black pepper
1 large stalk celery, sliced (about a cup)
2 large carrots, peeled & sliced into rounds
3-4 cups low sodium vegetable stock
1 tin chopped tomatoes
1 cup dried Puy (French) lentils, rinsed, picked through for stones and drained
2 dried bay leaves
60g frozen peas
1 x 15ml tblspn sweet soy sauce
Bunch flat leaf parsley, chopped
Handful pumpkin seeds, toasted if you like
To serve: crusty buttered bread or warm naan bread
Add oil and butter to a large saucepan and bring to medium heat.  Add in onion, garlic, spices and thyme, along with seasoning to taste and reduce heat to low/medium. Slow sauté for a few minutes, stirring once or twice then add in carrots and celery, covered, stirring and sautéing for a further 6-8 minutes, or until onion is softened and slightly caramelised.
Turn heat up to high and pour in 3 cups of stock, tomatoes, lentils and bay leaves.  Bring to a boil then reduce heat to a gentle simmer, place on lid and cook for 30-40 minutes, stirring regularly, until lentils are tender and liquid has reduced.  If liquid is reducing too much for your liking, add in a bit more stock thin it out (I only used 3 cups).  A few minutes before the end of cooking time, stir through peas and sweet soy sauce until hot.  Season to taste.
Remove pan from the hotplate, remove bay leaves then add parsley and stir through.
Pour into 4 bowls, scatter over pumpkin seeds and serve with bread.
Serves: 4
Note: freezes well for up to 3 months.