Mmmm health food!
Haha 

but anyway, I put these super easy, beautiful trifles together for the Christmas/holiday season.  I mean I wouldn't do this sort of thing outside of celebration times but for a fun dessert, they look so whimsical and cute and well, just a little OTT.  As with the lemon cake I posted the other day, I used some beautiful edible flowers to jazz them up a bit.
I'll be honest though and say that, despite having a sweet tooth, fairy floss is way too teeth achingly sweet for me to have a huge amount of it.  I went crazy with it for the decorative effect though as it's really cheap and you can buy it from lolly shops and such.
This is a fairly rustic recipe in that I haven't added actual amounts or anything but you know, it's trifle, you can pile in whatever you like really (although I wouldn't recommend Rachel's trifle, hah).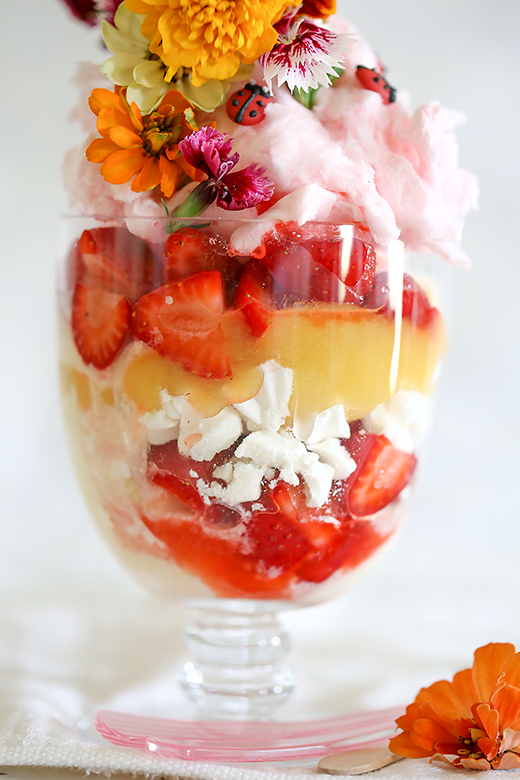 Recipe for fairy floss ice cream trifles with macerated strawberries, lemon curd & meringue:
Macerated strawberries:
Fresh strawberries, diced
Vanilla sugar or white caster sugar + vanilla bean paste
Cointreau
Layers:
Good vanilla bean ice-cream
Vanilla flavoured meringues, crumbled
Good store bought lemon curd
Topping:
Fairy floss
Edible flowers
Cake toppers, glitter, small lollies
Find some pretty dessert dishes or glasses and set aside.
Add the chopped strawberries to a glass bowl and sprinkle over sugar and Cointreau to taste (I use a heaped tablespoon of sugar + 1/4 teaspoon vanilla bean paste + 1 teaspoon of Cointreau per 250g punnet of strawberries).  Allow to sit for 25-30 minutes or so, stirring occasionally until you see syrupy juice at the base of the bowl.
Spoon some ice cream into the base of each dish, then spoon over a few strawberries with the juice, some crumbled meringues, layer over some lemon curd, more ice cream and strawberries then pile on a generous amount of fairy floss.  Add edible flowers and/or lollies to the fairy floss.