I've seen Speculoos spread around recently with everyone saying how delicious it is (had never heard of it before) and had to try some.  I mean I've bought the bikkies quite a few times, usually for Christmas but this is sort of a spicy cookie butter, it's amazingly good.  I purchased my Dutch goodies from here.
So these blondies have the spread AND the bikkies stuffed into them; a real treat for Christmas with a squidgy, fudgy crumb and that lovely spicy sweet Dutch flavour.  Also, I just used one saucepan to mix these up in (not a bowl as such however one saucepan sounded a bit weird in the title).  So less washing up – win.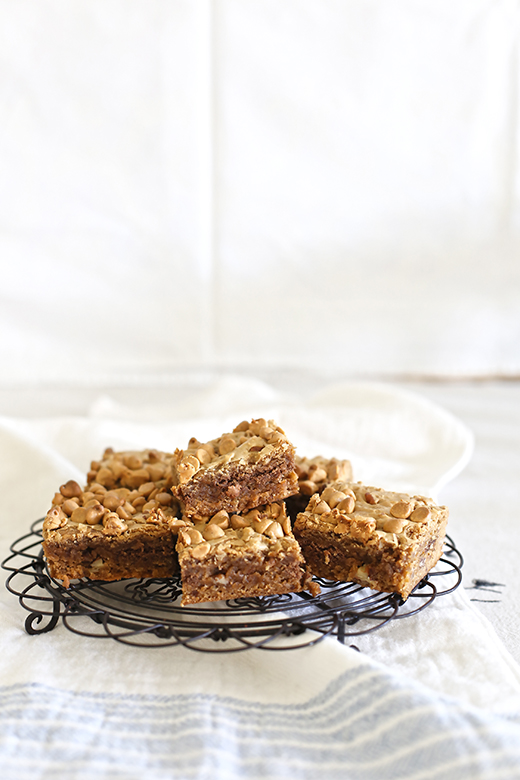 Recipe for One bowl Speculoos stuffed Speculoos, pecan & peanut butter blondies:
100g unsalted butter
150g crunchy Speculoos spread
1 cup brown sugar, packed
1/3 cup raw sugar
1 tspn vanilla or maple extract
2 large eggs, at room temperature
1 level cup plain flour + slightly less than 1/2 cup
1 tspn baking powder
A couple of grinds of sea salt
1/2 tspn mixed spice
50g pecan nuts, toasted & chopped
6 Speculoos biscuits
Peanut butter chips (can substitute chocolate chips)
Preheat oven to 175 degrees C.
Grease a rectangular 25cm x 15cm brownie tin or 20cm square cake tin and line with greaseproof paper, making sure to leave some over the sides for easier removal after baking.
Add butter and Speculoos spread to a large, heavy based saucepan and heat over low/medium heat, stirring until melted and combined; sit for a couple of minutes then add sugars, vanilla and eggs and use a whisk until combined.  Sift in dry ingredients then the pecans and fold through with a wooden spoon just until combined.
Spoon half of the mixture into prepared tin (mixture will be stiff so persevere), smooth right out to the sides and corners with a butterknife and press in the Speculoos biscuits gently; spoon over the remainder of the mixture and smooth the top with a butter knife right to the edge of the pan, making sure to cover the biscuits. Sprinkle over peanut butter chips generously and press in gently.
Bake for 22-24 minutes, or until pale brown and still soft in the middle but set around the sides.
Allow to cool in tin for a bit (technically you're meant to cool completely but you know, warm blondies = yummo), then remove blondie onto board to slice into squares.
Makes: 12 squares