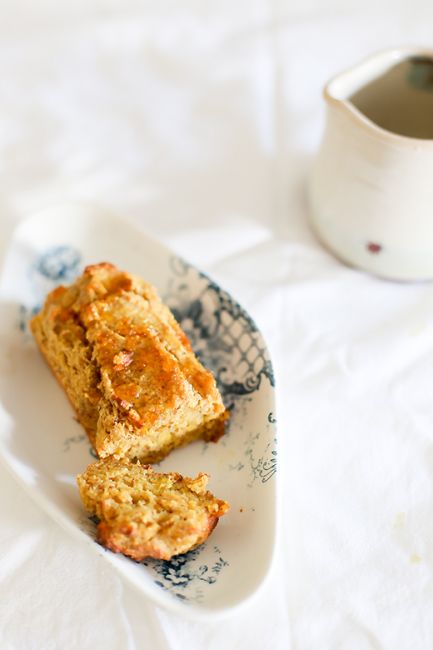 I made some sweet little orange loaf cakes at the end of winter, using whole oranges.  So not surprisingly, they're Intensely orange flavoured, bitter/sweet and super soft.  I added a bit of almond essence for a stronger almond flavour but if you're not into that, leave it out or add vanilla instead.
They are a teeny bit labour intensive though, the cooking and blending of the oranges being the most long winded part.  This was mostly due to my horrible, mega old blender/food processor combo which, after making these, went to food processor heaven rather unceremoniously (aka, the Bermuda Triangle, which is our garage, to wait for the next white goods recycling round).
So a few hours after I made this recipe, I purchased an Optimum 9200 2nd gen!  Which to me at least, is like the Rolls Royce of blenders.

Recipe for orange almond mini loaves:
2 oranges, washed (about 130g each)
3 large eggs
3/4 cup raw caster sugar
1 tspn almond essence (optional)
2 cups almond meal
1/2 cup wholemeal plain flour
1 tspn baking powder
1/4 tspn bicarbonate of soda
Syrup:
1 orange, washed (about 130g)
1/2 cup raw caster sugar
Greek yoghurt or cream, to serve
Grease 6 mini, non-stick loaf tins and line with baking paper with some over-hang.  Alternately, you can use a greased 20cm springform cake tin and line the base with baking paper.
Place the mini loaf tins onto a flat baking tray – if you're using the cake tin, this step isn't necessary.
Place oranges in a heavy-based, large saucepan and cover with water; bring to the boil, then reduce heat to medium/high and simmer for 20 minutes.  Drain water and repeat process until oranges are soft after testing with a skewer, for an hour or even longer if needed (if your oranges are thick skinned, it may take up to 2 hours); twice boiling helps take the bitterness out of the orange skin.  I also had to refill the saucepan with boiled water from the kettle 3 times.
Remove oranges with tongs, draining off excess water, onto a chopping board, slice in quarters and remove the seeds.  Allow to cool.  Preheat oven to 175 degrees C.
Place oranges into a blender with a tablespoon of tap water and process a few times until smooth.  Set aside.
Use an electric mixer to beat eggs, sugar and essence in a large mixing bowl, for 5 minutes or so, until thick and pale.  Add pureed orange, almond meal, flour and raising agents and use a wooden spoon to fold gently until combined (don't over-beat).
Spoon mixture into prepared tins, smooth the tops and bake for 20-25 minutes, or until a skewer inserted into the centre of one of the cakes comes out clean.  Allow to sit in tins for a bit.
Syrup:
Finely grate the whole orange then place rind into a small saucepan.  Juice the orange and add the juice and sugar to the rind.  Simmer on medium heat, stirring continuously, for a few minutes until the sugar dissolves and the mixture reduces slightly and starts to look like a syrup.
Use a skewer to poke holes into the loaf cakes then spoon syrup onto each cake.  Use the baking paper overhang to remove the cakes onto a cooling tray.
Best served warm, with dollops of Greek yoghurt or cream if you like.
Makes: 6
Adapted from: All Recipes
Note 1: boiling and pureeing the oranges can be done ahead of time
Note 2: if you prefer, use organic oranges for this recipe