So I made these cute, tasty little curry puffs yesterday.
The filling is spicy/sweet and surrounded by crispy puff pastry; dipped into tomato sauce, they made for a brilliant afternoon snack with a beer.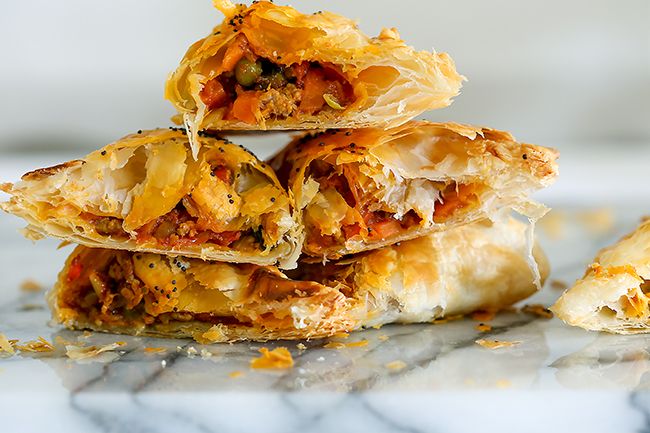 Recipe for curry puffs:
30mls oil
2 tspns curry powder
Decent pinch chilli flakes or 1 red chilli, diced finely
1 medium brown onion, diced very finely
2 cloves garlic, crushed
1 medium carrot, diced very finely
1 medium red capsicum, diced very finely
15mls oil, extra
300g minced turkey
20mls balsamic vinegar
2 heaped tblspns sodium free tomato paste
1 x 400g tin chopped tomatoes
1 low sodium chicken or beef stock cube, crumbled
1 dried bay leaf
65g frozen baby peas
A few basil & parsley leaves, finely chopped
Freshly ground sea salt & black pepper
4 1/2 sheets puff pastry, partly thawed (a bit firm still)
1 egg & a splash of milk, whisked, for egg wash
1 tspn black sesame seeds (optional)
Sweet chilli sauce or tomato ketchup, to serve
Add 30mls oil to a large, heavy based saucepan along with the spices, onion, garlic, carrot and capsicum.  Season well then bring to medium/high heat and cover, gently sautéing and stirring regularly for around 8 minutes until lightly caramelised.  Remove onto a plate.
Turn up heat to high, add in extra 15mls of oil then the turkey, breaking up with tongs.  Sauté on high heat, stirring occasionally, until almost cooked, then add in balsamic vinegar and tomato paste, allowing to simmer for a few minutes until liquid has reduced significantly.  Add tin of tomatoes, stock cube, bay leaf and decent amount of seasoning, stirring until combined, then simmer covered on medium heat for 20 minutes, stirring regularly.  Remove lid then continue to simmer for 5 minutes until mixture is very thick.
Remove bay leaf, stir through peas and chopped herbs then sit aside to cool quite a bit (if a hot day, cool for 10 minutes on your bench top then chill in the fridge).  This mixture can be made a day in advance and stored in the fridge or frozen for up to a month.
Preheat oven to 200C.  Place baking paper over 2 large baking trays.
Place pastry sheets over a clean, flat surface lined with a sheet of baking paper.  Use a sharp knife to slice each sheet of pastry into 4 squares.  Place square onto baking sheet and spoon 2 heaped teaspoons of filling into the middle of each one.  Use a pastry brush to brush egg wash around the sides of each square then fold over carefully into a triangle, using fingertips to press down the sides, so filing is enclosed well.  Use a sharp knife to make 2 small slits in the top.  Continue with the rest of the squares; each tray will hold 7 curry puffs.
You'll need to bake these in 2 batches or, see below for freezing advice.
Brush the puffs with egg wash, sprinkle over a few sesame seeds and bake for 25-30 minutes or so, or until puffed and golden; after about 15 minutes, swap trays around.
Serve with chilli or tomato sauce (beware – these are very hot just out of the oven – I know, Captain Obvious but I'm always making that mistake).
Makes: 18 (serves 6-9 people as appetizers)
Note: curry puffs can be frozen; allow filling to be chilled before placing into pastry squares and make as above.  Make 2 slits in the middle of each one with a sharp knife then wrap each puff in plastic wrap then place in a freezer bag, remove air, tie tightly with a twist tie and freeze for up to a month.  When you want to use then, allow to thaw in the fridge overnight, then make as per the recipe.