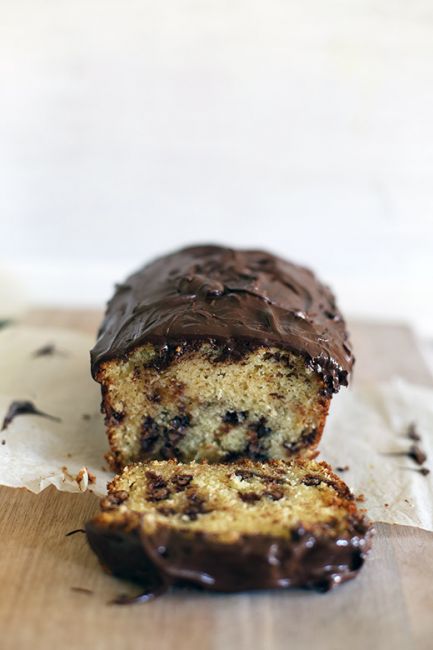 Sometimes a simple loaf is just the thing.  I loved how hearty yet soft this lightly vanilla scented loaf was with chocolate chips inside and sticky ganache all over.
Recipe for chocolate chip loaf cake:
2 cups plain flour
1 1/2 tspns baking powder
1/2 tspn bicarbonate of soda
One grind of sea salt
1 cup milk chocolate chips
140g unsalted butter, softened at room temperature
1 cup white caster sugar
1 tspn vanilla concentrated extract or 2 tspns vanilla essence
3 large eggs
3/4 cup buttermilk
Chocolate ganache:
200g dark chocolate (sweetened), broken up into squares
20g unsalted butter, chilled
3-4 grinds of sea salt
Preheat oven to 180c.  Grease a 20cm loaf tin with butter and line base and sides with baking paper, leaving some overhang for easier removal of cake after baking.
Sift flour, raising agents and salt into a bowl.  Toss through chocolate chips.
Add butter and caster sugar to a large bowl and use electric mixer on medium speed to beat for 2 minutes, or until light and fluffy.  Add vanilla and eggs, one at a time, beating on low speed after each addition, just until blended.  Add flour mixture and buttermilk in 3 parts, using a spatula or wooden spoon to fold through until combined, being careful not to over beat.
Smooth top of cake with a butterknife and bake for around 50 minutes, or until golden brown, a skewer inserted into the middle comes out clean and/or the top springs back when gently pressed.
Allow cake to cool in tin for 8 minutes then use baking paper to move cake onto a cooling rack.  Cool completely at room temperature before icing with ganache.  Allow ganache to cool on the cake a bit before serving although it does stay soft and creamy (rather than a firm icing).
Chocolate ganache:
Place ingredients in a pan or heatproof bowl over another pan of gently simmering water (make sure the base of the top pan doesn't touch the water).  Stir until melted and smooth.  Allow to cool for 2-3 minutes before icing cooled cake.
Best eaten on the day.
Makes: 8-10 slices