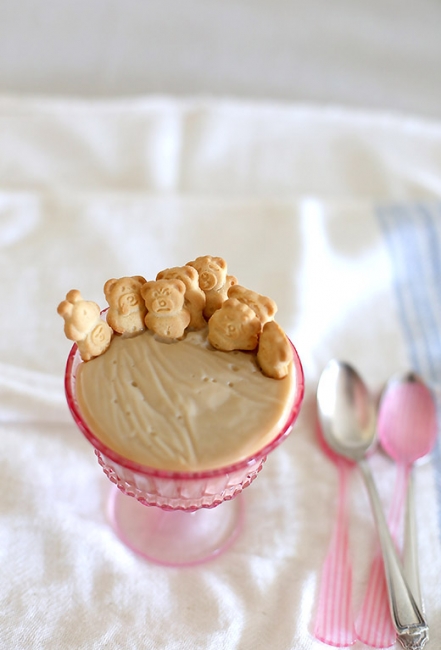 This is a real treat today you guys!  Silky smooth, creamy sweet butterscotch custard, cool cream and crunchy Tiny Teddy bikkies (tell me I'm not the only one who loves these)!
It's super easy to whip up (it's egg and oven free) and all you have to do is wait a bit for it to set.
And spot the cranky bear in the middle!  I only noticed after I took the photos and it made me laugh.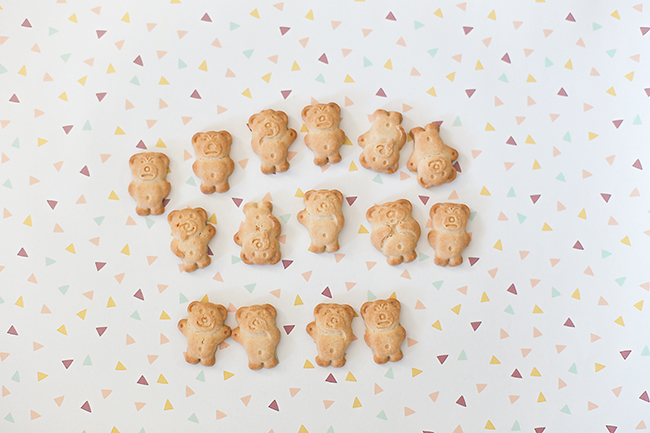 Recipe for butterscotch dairy pudding:
40g unsalted butter, chilled & cubed
1/3 cup + 1 x 20ml tblspn brown sugar, packed
3 x 20ml tblspns cornflour + 1/4 cup full cream milk
2 cups full cream milk
1 tspn vanilla concentrated extract
Decent pinch coarse sea salt
Thickened cream, to serve
Demerara sugar, for sprinkling
Teddy bear biscuits, optional
Set aside 4 pretty dessert glasses, dishes or mugs.  Add cornflour to a small mug, pour in 1/4 cup of milk and stir until mixture is smooth.
Add the butter to a medium sized, heavy based pan over medium heat and melt.  Add brown sugar, allowing the butter to sizzle gently for a couple of minutes, stirring, making sure it doesn't burn.  Find a whisk then gradually add in the milk, whisking until smooth;  quickly stir cornflour mixture again then add to the custard, continuing to whisk until mixture is smooth.  Increase heat to medium/high and use a wooden spoon to stir custard continuously for around 8-10 minutes, until it starts to bubble and thicken considerably.
Remove pan from the heat and add in vanilla and salt, stirring briskly to combine.
If your dessert glasses aren't heat-proof, allow the pudding to sit for 5-10 minutes in the pan to cool; I placed some plastic wrap over the top of the pudding so it didn't develop a skin.  Pour into dishes, apply plastic wrap straight on the puddings and chill for about an hour until they set with a bit of a wobble.  If you chill them for longer, they tend to firm up a lot – I prefer a silky texture so only chill for an hour.
Serve with dollops of cream, a sprinkle of Demerara sugar and teddy bear bikkies.
Serves: 4
Adapted from and inspired by:  Smitten Kitchen