I made these zesty, bright pancakes one recent weekend; the syrup is so deliciously sweet and full of floral honey and orange flavours.  I make ricotta pancakes quite often; ricotta makes pancakes fluffy yet slightly custard-like inside unlike the cake texture of your classic buttermilk pancakes, but lovely just the same.
There's heaps of syrup so if you have any left over, pour it warmed over porridge with Greek yoghurt as a treat.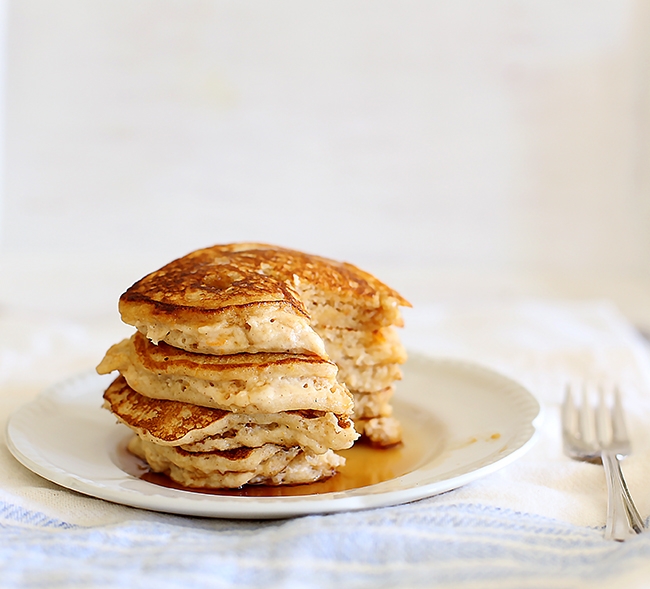 Recipe for orange ricotta hotcakes with orange honey syrup:
1 cup full fat ricotta cheese
1/2 cup milk
2 large eggs, separated while eggs are still cold
1/2 tspn vanilla concentrated essence or orange essence
2 x 20ml tblspns raw caster sugar
2 tspns orange zest
1 cup plain flour
2 tspns baking powder
1/4 tspn mixed spice
1/4 tspn nutmeg
1/4 tspn cinnamon
Butter, for cooking
Orange honey syrup:
1/2 cup Manuka (natural floral) honey
1/4 cup orange juice, freshly squeezed
2 tspns orange zest, finely grated
20g unsalted butter, chilled & cubed
1/2 tspn vanilla concentrated extract
Orange segments, to serve
Allow the separated eggs to come to room temperature for 10 minutes or so along with the milk and ricotta.
Add the ricotta, milk , egg yolks, vanilla, sugar and zest to a large mixing bowl and whisk.  Sift the flour, spices and baking powder into the bowl, folding with a wooden spoon gently a few times.
In a clean, dry bowl, beat the egg whites using a hand whisk or electric mixer on medium speed until they have soft peaks (just before they turn firm), then fold into the pancake mixture very gently until combined.  Sit for a bit while you make the syrup.
Syrup:
Add syrup ingredients to a small saucepan and heat over medium heat until simmering. Reduce heat to the lowest setting so it stays hot while you're cooking the pancakes.
Add decent knob of butter to large non-stick frypan or griddle and heat to medium/high, brushing the butter over the surface evenly then drop in heaped large tablespoons of pancake mixture (I made ours small and thick).  When you can see a couple of bubbles in the surface of each pancake and the underside is golden brown (this takes me around 3 minutes), flip over and continue to cook for another 3-4 minutes or so, or until cooked right through.  Continue this method with the remainder of the pancakes, reducing heat a bit as you go to prevent the pancakes burning.
Serve pancakes with generous servings of warm syrup and orange segments.
Serves: 2 (makes around 6 x 7cm hotcakes)