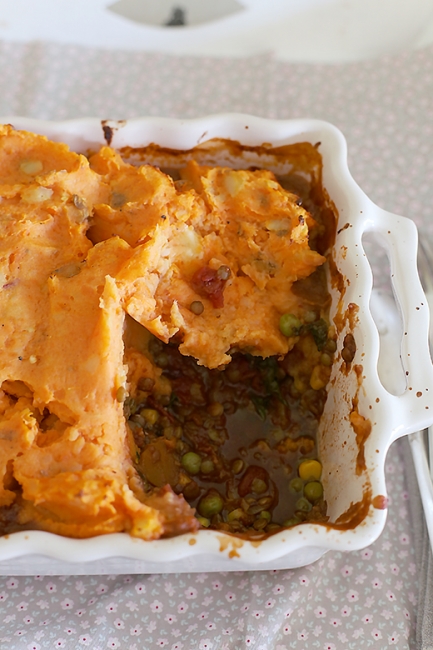 I love my lentils and beans and things and this dish is something I make quite regularly in colder weather.  It's a hearty, spicy, vegie packed cottage pie with French lentils; I prefer French lentils as they keep their shape and have a nice bite to them.
Lentils are a brilliant sub for meat and even carnivores don't miss meat that much when they eat something like this, especially with the spicy sweet potato mash topping.
This is such a warm and cosy dinner for a cold night and pretty economical too!


Recipe for spicy lentil & sweet potato cottage pie:
400g Dutch cream potatoes, diced
400g orange sweet potato, peeled & diced
1 x 20ml tblspn unsalted butter, softened
2 x 20ml tblspns full fat Greek yoghurt
1/4 tspn sweet paprika
Pinch chilli flakes
40g Parmesan cheese, finely grated
Freshly ground sea salt & black pepper
1 x 20ml tblspn oil
1 medium/large brown onion, halved & sliced
2 carrots (around 180g), peeled & sliced fairly thin
1 large stick celery, sliced
2 cloves garlic, crushed
1 tspn ground cumin
Pinch chilli flakes or 1 red chilli, diced
1/4 tspn sweet paprika
Freshly ground sea salt & black pepper
400g tin diced tomatoes
2 cups low sodium vegetable stock
50g low or sodium free tomato paste
40mls balsamic vinegar mixed with 40mls water
130g French style lentils
2 dried bay leaves
60g frozen peas
80g frozen sweetcorn kernels
Large handful flat leaf parsley, chopped
Rinse and drain lentils in a sieve, sorting through them to see if there are any stones to discard.  Find a medium sized, deep sided ceramic dish (mine is 18cm square x 7cm high) and grease with butter or oil.  Place onto a flat baking dish.
Place potatoes into a large saucepan and cover with water; boil over medium/high heat until tender.  Drain, mash very well then add in butter, yoghurt, spices, Parmesan & seasoning and use wooden spoon to mix briskly until smooth.  Cover with lid to keep warm.
White potatoes are boiling, add oil to a large saucepan along with onion, garlic, carrots, celery, spices and seasoning.  Bring to high heat until you can hear sizzling, then turn down to medium, cover and sauté for 5-6 minutes, stirring regularly, until vegies have softened.  Add tomatoes, stock, tomato paste, balsamic vinegar/water, lentils, bay leaves and further seasoning to taste, then bring to a boil.  Turn down to medium/low heat and simmer uncovered for 30 minutes, stirring regularly, until lentils are tender and sauce has thickened.
Preheat oven to 200C while lentils are cooking.
Remove pan from the hotplate, add peas, sweetcorn and parsley and stir through.  Season a bit more if you think it needs it.  Remove bay leaves, pour mixture into prepared dish then spoon over potato mash, using a butterknife to smooth out.  Scatter a few pats of butter over the top if you like.
Bake for 20 minutes or until filling is bubbling and very hot, then allow to sit for 10 minutes or so before serving.
Serves: 4