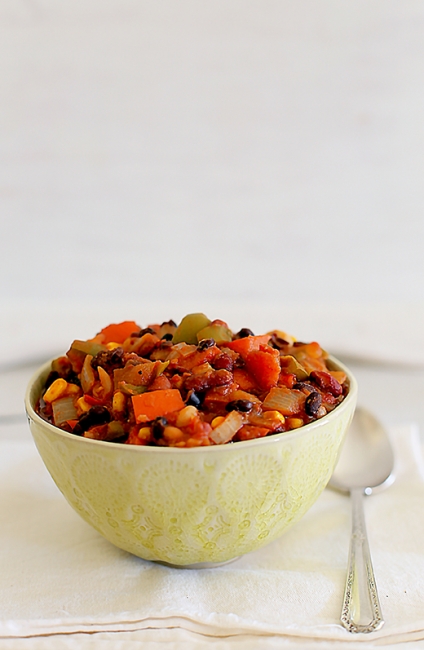 Just a quick post today to say I made a vegetarian chilli based on this one, packed full of beany goodness.
It's great for freezing and quick lunches and dinners, is vegetarian and vegan friendly and uses tins and things from the cupboard so is very economical and easy to put together.
Oh and this chilli cheese baked rice makes a great accompaniment.
Recipe for vegetarian three bean chilli con carne:
40mls oil
2 smallish onions or 1 large, diced
2-3 garlic cloves, crushed
Decent pinch dried chilli flakes + 1 tspn ground cumin or cumin seeds + 1 tspn ground coriander OR 2 tspns Tex-mex seasoning
2 large capsicum, diced
50mls balsamic vinegar mixed with 70mls water
50g sodium free tomato paste
A couple of shakes of Worcestershire sauce
2 x 400g cans diced tomato
1 low sodium vegetarian stock cube
1 x 400g tin red kidney beans, drained and rinsed
1 x 400g tin black beans, drained and rinsed
1 x 400g tin cannellini beans, drained and rinsed
80g frozen corn kernels
Freshly ground sea salt & black pepper, to taste
Add oil to large saucepan on medium heat and throw in the onion, garlic and spices; season.  Sauté covered, stirring every now and again, until onion is nearly transparent then remove the lid, add the capsicum, stirring to combine then sauté a bit longer until slightly caramelised.  Turn up heat to high and wait until you hear it sizzle then add the tomato paste and balsamic vinegar mixture, stirring to combine for a minute or two.  Add in the Worcestershire sauce, tins of tomato, diced stock cube and a decent amount of seasoning; stir to combine then add all the beans and mix in well.
Bring chilli to a high simmer then reduce heat to gentle simmer and continue cooking covered, stirring occasionally, for 20 minutes.  Remove lid, add corn kernels then place over splatter guard and simmer for a further 15-20 minutes, stirring occasionally, until mixture has thickened and reduced.
Serve with rice, avocado & sour cream.
Serves: 4-6, depending on what you serve with it