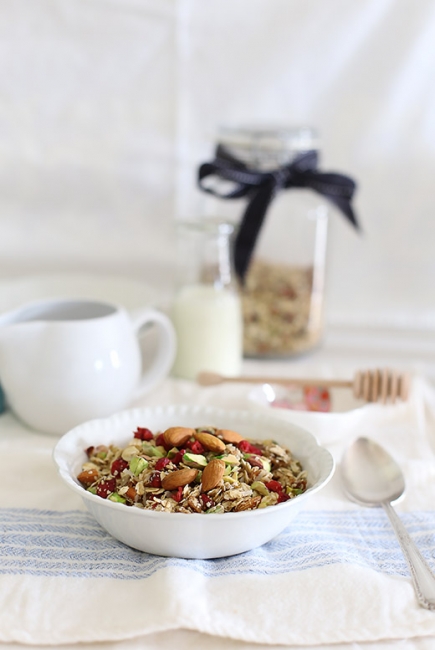 I know, I know, I posted a granola recipe a couple of weeks back but have I ever said on here how much I love salted pistachios?  I'm a little bit obsessed actually.  Give me a big bowl of dry roasted, salted pistachios and I'll sit on the lounge happily shelling and eating them like a squirrel.
So anyway, because we all love salty/sweet things now, I thought it would be ace to add some salted pistachios to raw muesli with honey and dried figs, which are basically meant for each other.  This is also a convenient, fast breakfast because you only need a splash of milk basically, however like most mueslis/granolas, Greek yoghurt and fresh fruit are always a good idea.
And don't worry, it's not salty as such (that would be weird!), the pistachios merely add a lovely contrast to the sweet, chewy fruit and honey.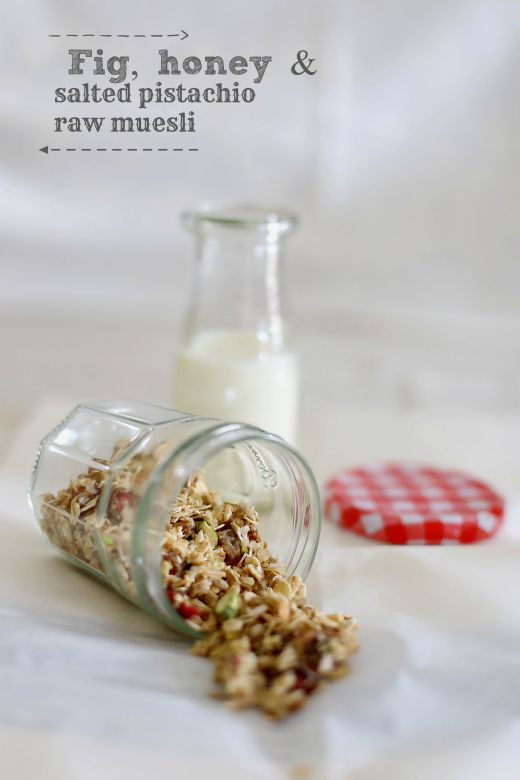 Recipe for fig, honey & salted pistachio raw muesli:
1/4 cup honey
1 tspn vanilla concentrated extract
1 tspn mixed spice
3 cups whole oats
40g whole almonds, chopped
25g sunflower seeds
40g salted, dry roasted pistachios (weight = shelled nuts), chopped
20g (1/4 cup) unsweetened coconut flakes
40g dried cherries or cranberries
100g dried figs, chopped finely
Warm honey, vanilla and spice in a small pan over medium heat until liquid and just luke warm.  Stir to combine then set aside to cool a bit.
Add remainder of ingredients to a large bowl and stir to combine then add honey/vanilla and mix until coated well.  Allow to cool before storing.
Keep in an airtight container in the fridge (in warmer weather) for 2 weeks or at room temperature (at colder temperatures) for up to a week.
Makes: 620g; serves: 10