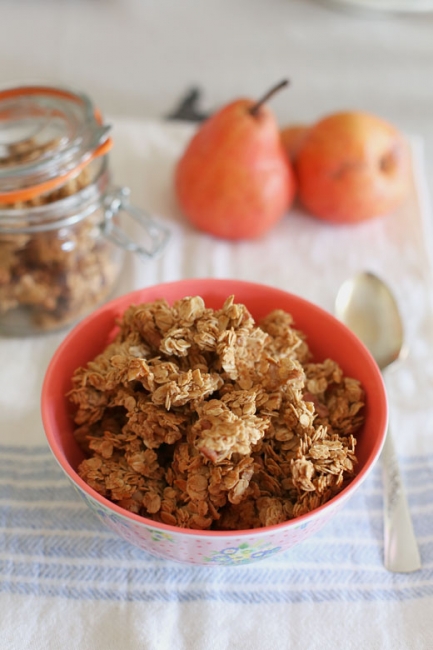 I whipped up a deliciously spicy, crunchy, cold weather inspired toasted muesli a while back, just from ingredients I had on hand.
It's not full-on ginger in flavour, just enough to give a sweet, warm flavour however if you're a real ginger fan, add a bit more fresh or ground ginger to the recipe.  This is nice with or without the dried apricots and you can always leave them out, but I do love the warm sweetness of them with the ginger.
Brilliant for a wholesome breakfast or sprinkled over fruit for a quick crumble.
Prefer get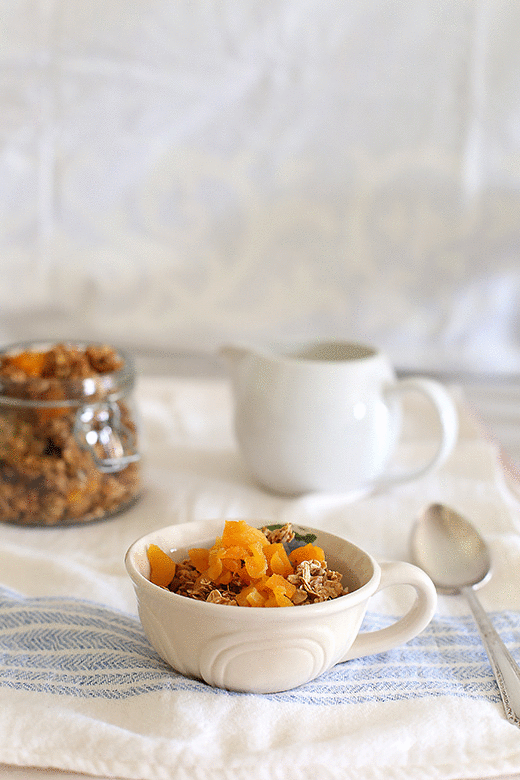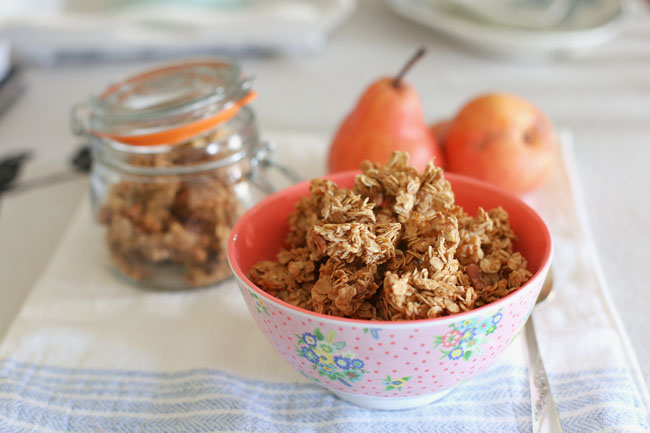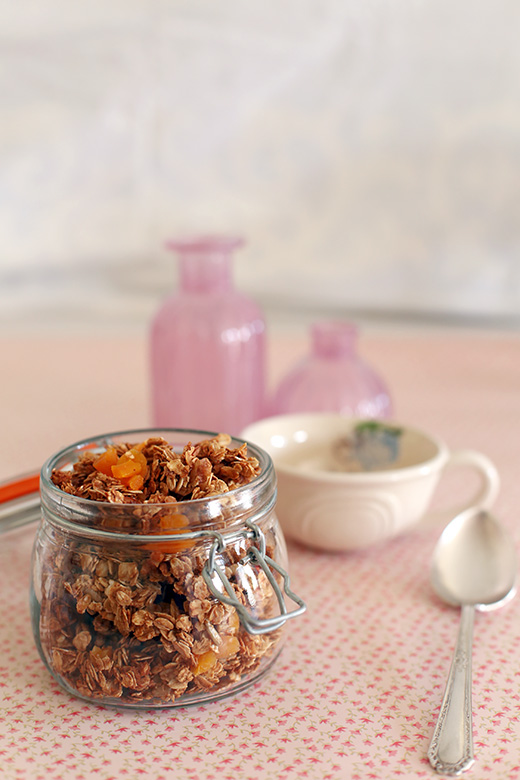 Recipe for ginger spice & apricot toasted oat clusters
30g sunflower seeds
50g raw walnuts or pecan nuts, chopped coarsely
3 cups wholegrain natural oats (not instant)
2 tspns ground ginger
1/2 tspn mixed spice
1/4 tspn fine sea salt
1/4 cup pure maple syrup
1/4 cup golden syrup
1 x 20ml tblspn oil
1 tspn vanilla extract
1 tspn fresh ginger, finely grated
120g Mediterranean apricots (the soft kind), chopped
Preheat oven to 150C.  Place baking paper on a large, flat oven tray.
Place nuts and oats in a bowl, sprinkle over spices and salt and stir to combine.  Whisk syrups, oil, vanilla and fresh ginger in a mug until well combined then pour over oats and mix until everything's coated well.
Spread oats out on prepared oven tray; if you want clusters of toasted muesli, bring small mounds of the mixture together with your (clean) hands, otherwise just spread it out evenly.  Bake for 30 minutes or until light golden brown and fragrant.
Cool oats a bit then break up slightly with your hands, mixing through the apricots.
Allow oats to cool completely before storing in a sealed container for a week or so (keep in the fridge if you live in a warm climate or at room temperature in the cooler months).
Serve with milk and fruit or yoghurt.
This makes 450g and serves 10