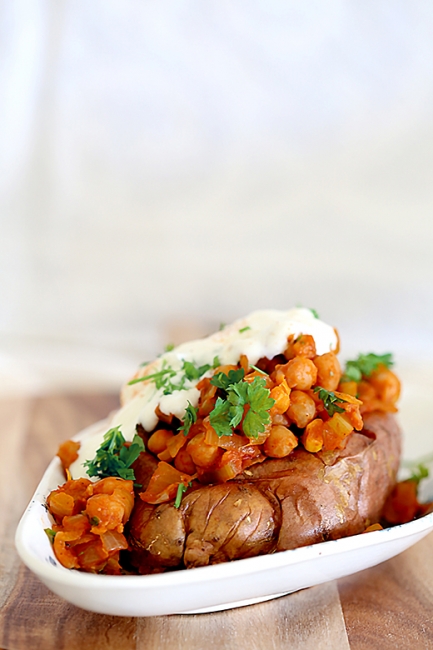 You guys, these are so good!
And you might think lemon and sweet potato are an odd pairing but actually, the zesty lemon works really well with the sweet, creamy potato, particularly with spices.  This is a bit of a fancy take on the baked potato with topping I usually make, and it made for a hearty, super delicious and comforting lunch-time dish.
Recipe for baked sweet potato with spicy lemon chickpeas:
2 sweet potatoes (around 230g each), scrubbed and dried well
1 x 15ml tblspn oil + extra for sweet potatoes
1 medium red or brown onion, diced
1-2 cloves garlic, crushed
1 stalk celery, halved & thinly sliced (feel free to leave this out or even substitute with diced red capsicum, I had celery in the fridge and decided to use it)
1 tspn lemon zest
Pinch chilli flakes
1 scant tspn ground cumin
1/4 tspn sweet paprika
1/4 tspn ground coriander
1 x 400g tin chickpeas, washed and drained well
30g frozen sweet corn kernels
2 heaped tblspns tomato paste, sodium free
Juice from one lemon
Freshly ground sea salt & black pepper
A handful flat leaf parsley, chopped
Sour cream or plain Greek yoghurt, for topping
Paprika, for dusting
Preheat oven to 210C.  Place baking paper on a baking tray.
Rub sweet potatoes with a teaspoon of oil each, place on tray and bake for 35-40 minutes, or until crispy on the outside and soft inside.
While potatoes are baking, make chickpea filling:  add 15mls oil, onion, garlic, celery or capsicum, lemon zest, spices and seasoning to a medium saucepan and sauté over medium heat, stirring regularly until caramelised and onion is transparent.  Increase heat to high then add chickpeas and sauté uncovered, stirring for a 2-3 minutes.  Reduce heat to medium, add tomato paste, lemon juice and further seasoning to taste, stirring for a minute or so to cook the tomato paste then reduce heat to low/medium and cook with the lid on, stirring occasionally for a few minutes until heated through.  Stir through parsley after you take pan off the heat.
Use a sharp knife to slice sweet potatoes lengthwise across the top and use a butter knife or tongs to make an opening.  Spoon chickpea filling into each opening, top with sour cream and a dusting of paprika.
Serves: 2