This caramelised vegetable, hearty pasta dish with fresh herbs and salty cheese is so easy; just roast some vegies and toss through cooked pasta and fragrant garlic oil.  Serve with lots of cheese and crusty bread!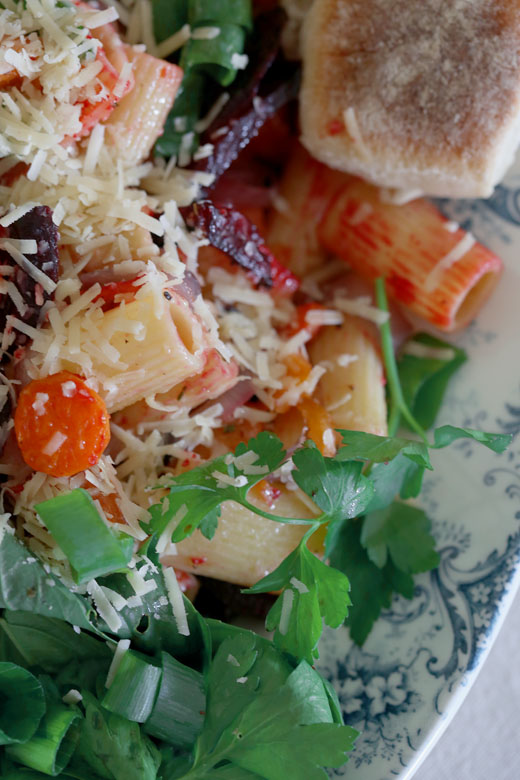 Recipe for winter vegetable & herb pasta:
360 short pasta (I used large rigatoni)
Oil for roasting
2 medium beetroot, peeled, diced small
4 small carrots, sliced medium thickness
1 medium sweet potato, peeled & diced small
1 large red onion, peeled, halved & sliced
1/3 cup extra virgin olive oil
Pinch chilli flakes
3-4 cloves garlic, crushed
1 tspn fresh rosemary, very finely chopped
Freshly ground sea salt and black pepper
Handful flat leaf parsley & handful basil & spring onions ( green part), chopped
80g Parmesan, Gruyere or Pecorino, grated finely (or all 3 if you like)
Bread rolls, to serve
Preheat oven to 200C.  Toss beetroot, carrot, sweet potato and onion in oil and seasoning on 2 baking trays lined with baking paper.  Roast for 45 minutes, or until caramelised and cooked through, turning pan around half-way through.
Meanwhile, pour extra virgin olive oil into a small saucepan and add the chilli flakes, garlic and rosemary.  Heat very slowly on low heat for 5 minutes or so, until fragrant, stirring occasionally.
Cook pasta in salted, boiling water for 12 minutes, or until al dente.
Drain pasta and add pasta back to the pan.  Pour in oil/garlic mixture and add the fresh herbs and roasted vegies, stirring through on low heat for 2 minutes until combined and heated further.  Season further and add a drizzle more oil if you like.
Divide between 4 serving bowls and add cheese scattered over the top and rolls on the side.
Serves: 4
Inspired by: Not Without Salt