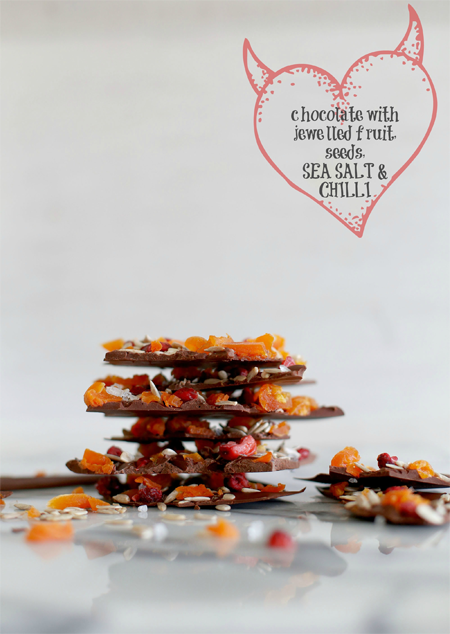 This is stupidly easy but the end result is so gorgeously wicked. With just a few steps, you end up with a generous slab of chocolate studded with whatever treats you like.
I loved the jewel like appearance and chewiness of the dried fruit with some crunch from sunflower seeds (well basically I used what I had in the fridge but that's the beauty of this).  In a moment of sheer genius (hah) I thought to add some chilli flakes to the melted chocolate and it added a very subtle spicy base flavour which was really quite delicious with some sea salt.  But both are optional and obviously you could add anything you like.  This would make a wonderful gift for somebody too.
Naturally I ate too much!
Recipe for fruit & sunflower seed chilli sea salt chocolate bark:
200g block good dark chocolate (sweetened)
Pinch chilli flakes (optional)
20g sunflower seeds (about 2 tblspns)
80g dried apricots, chopped
20g dried cranberries
Coarse sea salt (optional)
Find a large baking tray and line with baking paper.
Add chocolate to a heatproof bowl and place over a pan 1/3 filled with water (make sure it doesn't touch the base of the bowl).  Add chilli flakes then bring to a gentle simmer and allow to melt for a few minutes, stirring regularly.
Use spatula to scrape chocolate onto the prepared baking pan and smooth out into a rectangle shape, about 20cm x 10cm.  Sprinkle over dried fruit and seeds then a pinch or so of coarse sea salt.  Gently press into the chocolate.
Store in the fridge to harden for half an hour or maybe an hour, if weather is warm, then peel off the baking paper and break off into pieces.
Serves: 5 (ish)