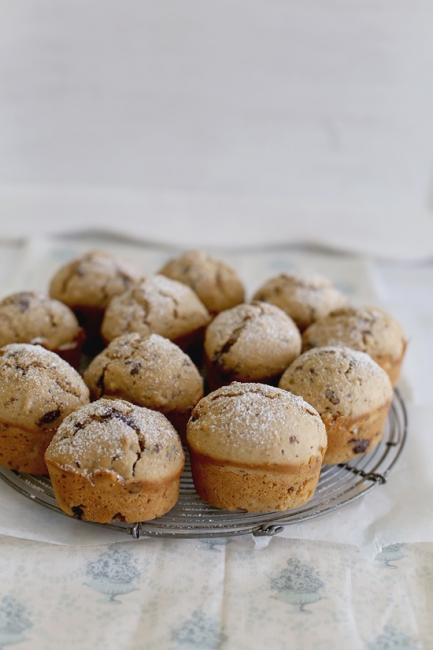 These are so easy to whip up.  I love how the chocolate chunks were all melty warm from the oven.
I used a friand tin to make them a bit fancier but a normal muffin tin will do.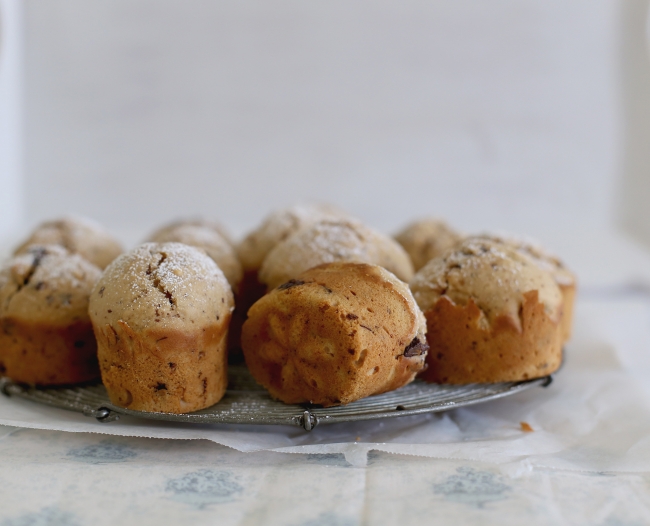 Recipe for peanut butter chocolate chunk muffins:
2 cups plain flour
2 tspns baking powder
Pinch fine sea salt
160g dark sweetened cooking chocolate, chopped
150g crunchy peanut butter, softened at room temperature (I used one with added salt and sugar)
40g unsalted butter, softened at room temperature
3/4 cup brown sugar, packed
1 tspn vanilla concentrated extract
2 large eggs
1 cup milk
Icing sugar, for dusting
Preheat oven to 180C.  Grease 12 cup friand tin or place cupcake wrappers into 12 cup muffin tin.
Sift flour and baking powder with salt into a medium bowl.
Add peanut butter, butter and sugar to a large mixing bowl.  Use an electric mixer on medium speed to beat for 2 minutes, until fluffy in texture.  Add vanilla and eggs, one at a time, beating on low speed just until combined.  Use a spatula or wooden spoon to fold through chocolate chunks then flour mixture and milk in 4 parts, starting with flour and ending with milk, mixing only until combined (don't over-beat).
Spoon into muffin tins evenly.  Bake for 18-20 minutes, or until golden brown on the top and tops spring back when lightly pressed.
Sit in tin for 5 minutes then move onto cooling rack; dust with icing sugar for decoration.  Serve while still warm with butter.
Makes: 12