So I whipped up an autumn inspired luscious squidgy pudding full of caramel, apples, cream and brioche.  So good with thick cream!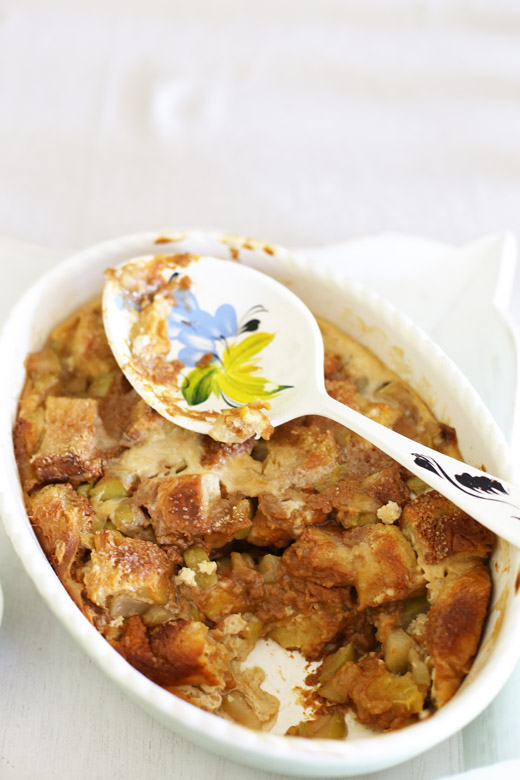 Recipe for apple caramel brioche pudding:
4 medium Granny Smith apples, cored and diced into small cubes (peel if you prefer)
2 tspns lemon juice
1 x 20ml tblspn raw sugar
1/2 tspn mixed spice
1/4 tspn ground cinnamon
1 x 20ml tblspn butter or margarine
1 x 15ml tblspn cornflour mixed with 15mls water until smooth paste
400g brioche loaf
1 x 380g tin Nestle Top N Fill
3/4 cup cooking cream (can sub Greek yoghurt)
3/4 cup full fat milk
2 large eggs
1 tspn vanilla concentrated extract, 1 tspn vanilla bean paste or 1 vanilla bean, scraped
1/4 cup brown sugar, packed (or loose, if you prefer less sugar)
25g chilled unsalted butter, cubed
2 x 15ml tablespoons coarse sugar
Cream, to serve
Grease a ceramic baking dish – I used an oval tin around 30 x 20cm and 7cm high.
Add apples, lemon juice, sugar, spices and butter to a medium saucepan over medium/high heat, simmering covered for 5 minutes, stirring occasionally, until apple pieces are tender and you can see juice on the base.  Pour in cornflour/water mixture and briskly stir through until thickened.  Remove from the heat to cool a bit.
Stir the tinned caramel until relatively smooth (it tends to settle in the tin).
Dice brioche into 2cm pieces.  Place cubes of brioche into base of prepared dish then layer between spoonfuls of the cooked apple and around 1/2 to 2/3 of the caramel (to your taste).
Whisk cream, milk, eggs, vanilla and brown sugar in a jug until well combined and smooth then pour evenly over the brioche pieces.  Gently press down the brioche into the custard with your (clean) hands.  Leave to sit for 15 minutes so the bread absorbs the custard mixture.
Preheat oven to 180C while pudding is sitting.
Just before baking, sprinkle the coarse sugar over the top and scatter over cubes of butter.
Bake for 40 minutes or until custard is just set and top is browned.  Allow to sit for at least 10 minutes before serving with cream and the rest of the caramel.
Serves: 6