I don't bake with poppy seeds enough so thought I'd throw some in a citrus loaf cake I baked a while back.  Poppy seeds give a tiny little satisfying crunch in this zesty loaf in which I replaced some of the flour with almond meal; almond meal adds a soft texture I love in cakes.
Initially I planned to make a lemon poppy seed cake but then thought, why just stop at lemon?!  Lemon and orange are quite friendly together in baked goods and citrus sounds a bit fancier.
If you have a cake-loving mum, this would be just the thing for our upcoming Mother's Day too.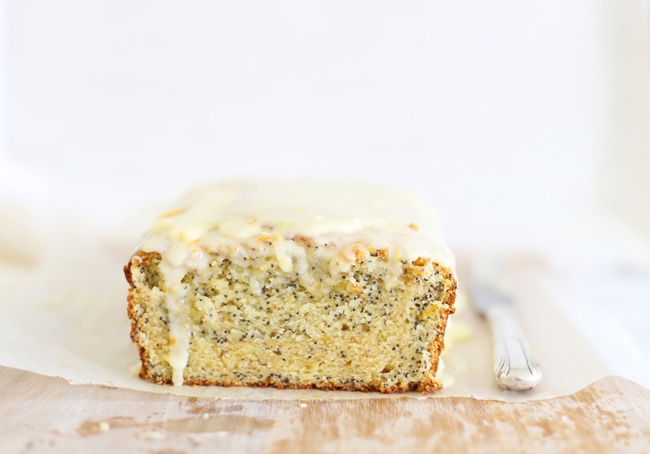 Recipe:
1 1/4 cups plain flour
1 tspn baking powder
1/2 tspn bicarbonate of soda
Small pinch salt
1/4 cup almond meal
20mls fresh orange juice + 20mls fresh lemon juice, strained
2 tspns finely grated orange zest +  2 tspns finely grated lemon zest, combined
3/4 cup full fat plain Greek yoghurt
120g unsalted butter, softened at room temperature
1 cup raw caster sugar
1 tspn vanilla essence
1/2 tspn lemon essence (optional)
2 large eggs
2 x 20ml tblspns poppy seeds
Icing:
1 1/2 cups icing sugar mixture (see note)
2 tspns unsalted butter, softened at room temperature
1 tspn finely grated orange & lemon zest
40-50mls orange & lemon juice
Preheat oven to 180C.  Grease a 6cm high, 10cm x 20cm loaf tin and line with baking paper, ensuring to leave some hanging over the sides.
Sift flour, raising agents and salt into a medium sized bowl – add almond meal and whisk through.  Into a jug, add juice, zest and yoghurt and whisk until combined.
Add butter and sugar to a large bowl and use an electric mixer on medium speed to beat for 2 minutes until light and fluffy.  Add essences and eggs, one at a time, beating after each addition on low speed just until combined.
Use a wooden spoon to fold in flour/almond meal mixture and yoghurt mixture in 4 parts alternately, starting with the flour mixture and ending with the yoghurt mixture and the poppyseeds, until combined, being careful not to overbeat.
Spoon into prepared loaf tin, levelling the top with a butter knife.  Bake for 50-60 minutes (I checked after 45 minutes and kept an eye on it after that), or until golden brown on the surface and a skewer inserted into the middle comes out clean.
Cool in tin for 8-10 minutes then remove cake onto a cooling rack to cool completely before icing.
Icing:
Add first 3 ingredients to a small bowl, gradually add in juice, using a wooden spoon to beat for a minute or so until it's smooth and creamy.  Drizzle over cooled cake.
Serves: 8-10
Note: if using pure icing sugar, you will have to sift it before adding the other ingredients.  I use icing sugar mixture which usually doesn't need sifting.