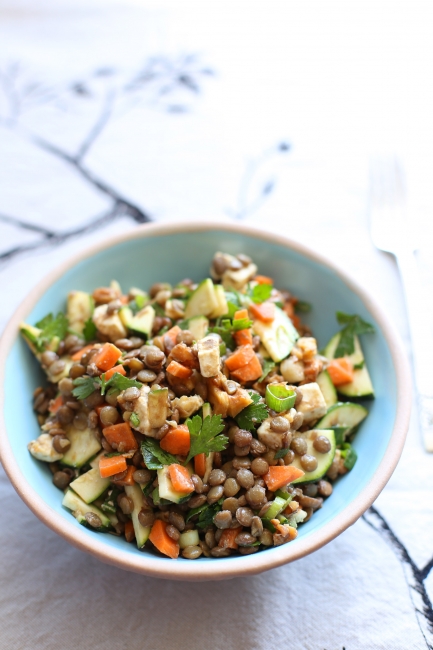 I spotted an easy, tasty looking lentil salad some time back by David Lebovitz via Ann's blog.  This is simple, healthy, full of flavour and easy to whip up for for work lunches, particularly if you already have the cooked lentils in the freezer, as I did.


Recipe for lentil salad with toasted walnuts & feta:
2 cups cooked brown or green lentils (see recipe for how-to)
1 carrot, peeled and finely diced
1 zucchini, quartered and finely sliced
1 green onion (white and green part), finely sliced
Handful flat leaf parsley, chopped
1/2 cup (40g) walnut halves, toasted and chopped coarsely
100g Tasmanian feta cheese, cubed
Vinaigrette:
1 x 20ml tblspn balsamic vinegar
2 x 20ml tblspns extra virgin olive oil
1 tspn Dijon mustard
Freshly ground sea salt and black pepper
I used leftover lentils for this but here is how I initially cooked them with 2 dried bay leaves and 1 teaspoon of Tuscan seasoning:
Rinse 1 cup of dried lentils in a colander and pick through, removing stones.  Place in a large saucepan and cover with water for 3cms or so then add the bay leaves and herbs; cover and bring to a boil over high heat then decrease to low heat, gently simmering for 25 minutes, or until tender; drain, removing the bay leaves.
Meanwhile add the vinaigrette dressing ingredients to a glass jar and shake to combine; season to taste.
Add lentils to large bowl with the vegetables, remainder of the ingredients and dressing, tossing through gently while lentils are still warm, if you've just cooked them, so the flavours are absorbed.  Add further seasoning if desired.
Serves: 2
Adapted from: My Paris Kitchen via Ann Mah