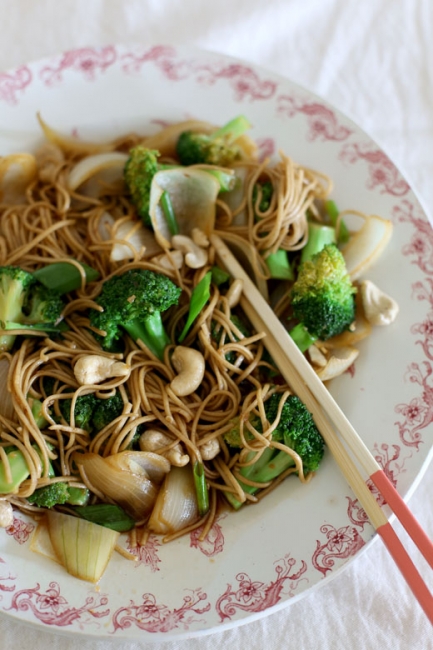 I'm really into home-made teriyaki sauce lately, particularly since it's easy to whip up and so incredibly sweet, salty and spicy.  It's also delicious in this simple dish with broccoli and noodles which rivals any take-away you could order and involves only a few ingredients.
This is brilliant for a quick and flavoursome lunch, plus I sort of needed something intensely savoury earlier in the week to offset the rich sweetness of all the chocolate I accurately predicted for this weekend.  Oh and I've labelled this recipe health conscious, despite the fact that it's quite high in sodium and carbs, because it's a decent substitute for take-away and because, well, it has broccoli.
Recipe for teriyaki broccoli with soba noodles & cashew nuts:
2 x 20ml tblspns honey (or substitute – agave, brown rice syrup)
2 x 20ml tblspns reduced sodium tamari or soy sauce
1 x 20ml tblspn Mirin
200g broccoli, chopped into bite-sized florets
80g soba noodles (or any noodles you prefer)
20mls oil
Pinch chilli flakes
1 onion, sliced into wedges
2 cloves garlic, crushed
2 tspns fresh ginger, grated
2 spring onions (green part) sliced on the diagonal
20g raw cashew nuts
Add honey, tamari and Mirin to a small jug and whisk to combine.
Steam broccoli just until tender yet still bright green.  Bring some water to the boil in a small saucepan and add in the soba noodles.  Simmer for 2 minutes or so, until tender.  Drain.
Meanwhile, add oil to a large saucepan or pan along with the chilli flakes, onion, garlic and ginger.  Sauté on medium heat, stirring regularly, until lightly caramelised and transparent.  Add the honey, tamari and Mirin and bring to a light simmer, stirring for 3-4 minutes until reduced a little bit.  Add in the broccoli and noodles, stirring to heat and coat with the sauce.
Place into two serving bowls and scatter over spring onions and cashew nuts.
Serves: 2 lunch-sized meals