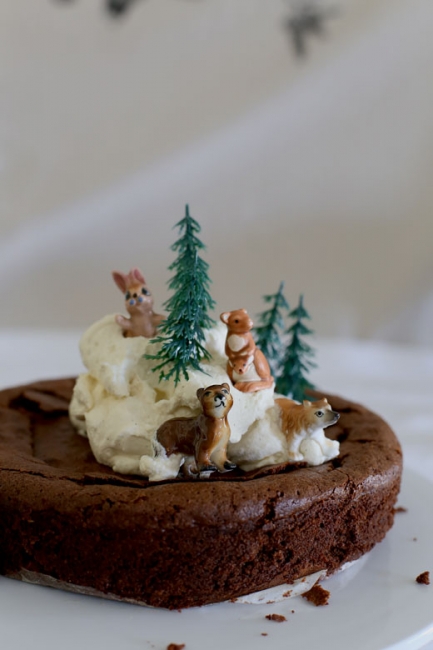 I spotted a magical cake recently and for fun, really wanted to recreate my own; I then became sucked into a vortex of cuteness on Etsy and before I knew it, I'd purchased a few woodland animal figurines for Christmas decorations.  You'll probably be seeing them perched randomly on top of cakes and things down the track.
So to celebrate my favourite season Autumn heading into Easter (even though it's raining here, it's still stupidly hot and stormy and I have to pretend I live in Alaska and it's making me stabby), I made an intense flourless chocolate cake dolloped with snowy cream for these little critters to perch on; darkly chocolate and almost mousse-like when it's still a little warm, then becoming more dense the longer it sits.  It would actually make a gorgeous yet totally different Easter dessert or Christmas cake, especially with some sweet decorations.
The cream is a light, fluffy, cool contrast to the rich, deep chocolate and works really well.  I also really appreciate how pretty very dark cakes are, topped with white icing or cream.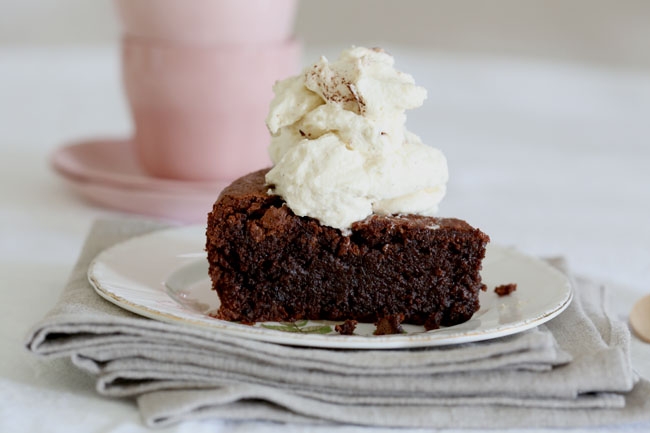 Recipe for flourless chocolate cake:
200g pack sweetened dark chocolate
1/4 cup just boiled water
1 heaped tspn strong instant coffee
200g chilled unsalted butter, diced
2 x 20ml tblspns cocoa powder, sifted
1 tspn vanilla concentrated extract (or 2 tspns vanilla extract)
4 large eggs from the fridge
1 cup raw caster sugar
2 cups almond meal, at room temperature
300mls whipping cream
1 x 20ml tblspns icing sugar
2 tspns vanilla bean paste
Cocoa, for dusting
Separate eggs while still chilled from the fridge (it's far easier that way!).  Allow to come to room temperature (around 10-15 minutes).
Preheat oven to 180C.  Grease a 20cm round cake tin with a removable base and line base with baking paper.
Smash the closed packet of chocolate onto a board, breaking it up.  Place chocolate pieces, boiled water, coffee, butter and cocoa into a medium, heavy based saucepan over low/medium heat for a few minutes, stirring until mixture has dissolved and is combined.  Remove from the heat, stir through the vanilla then set aside to cool.
Meanwhile, place egg yolks and sugar into a large sized mixing bowl and whisk for 2-3 minutes, or until pale, thick and creamy.  Set aside.
Add egg whites to a medium, dry, glass or ceramic mixing bowl and beat with electric mixer on high speed until soft peaks form (or alternately, use a hand whisk).
Add cooled chocolate mixture and almond meal to egg yolk mixture and fold through to combine.  Find a large metal spoon and place a couple of spoonfuls of beaten egg white into this mixture and fold through gently; add the remainder of the beaten egg whites to the chocolate mixture, folding through gently until combined.  Sometimes if the beaten egg whites are left for a couple of minutes, some liquid forms underneath – if this happens, just give them a quick whisk again.
Pour into prepared tin, using a spatula to scrape it all in and bake for 40-45 minutes or until cooked through – use a skewer inserted into the middle and make sure no wet batter is attached, then you can see the cake's ready.  Allow cake to cool in pan completely on a cooling rack.  The cake will sink as it starts cooling, that's what gives it the fudgy, dense texture.
Run a butter knife carefully around the sides of the cake then remove from pan onto cooling rack.
Just before serving, use electric beater to whip cream and icing sugar together until stiff; fold through vanilla bean paste.
Serve cake dolloped with cream and cocoa dusted over the top.
Serves: 8 (it's very rich)
Cake adapted from: Taste