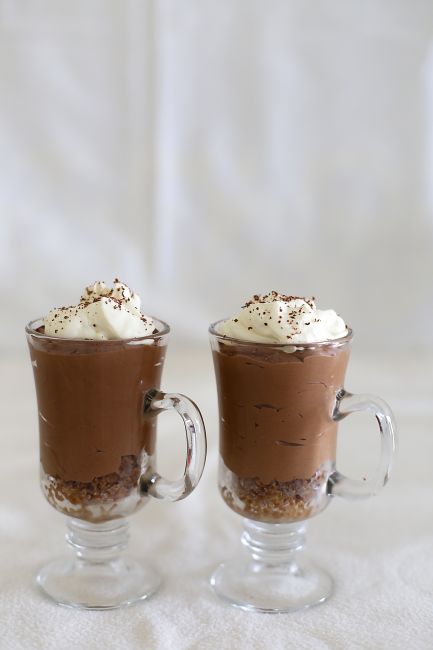 This luscious, fluffy, super easy chocolate mousse pie with a sinful hint of Baileys (and a truckload of thick cream!) is just the thing for today.  I used the original Baileys however if you can get your hands on some Baileys Chocolat Luxe, that would be brilliant!
Happy St Paddy's Day all 🙂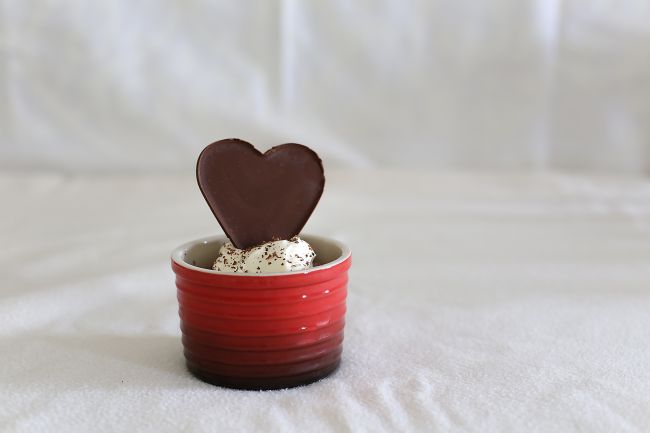 Recipe for St Patrick's Day Baileys Irish Cream chocolate mousse pie:
100g butternut snap biscuits (or plain sweet biscuits of your choice)
40g unsalted butter, melted
160g sweetened dark, milk or a combination of chocolate of your choice, broken up into squares
1/3 cup full cream milk
1 tspn vanilla concentrated extract
2 x 15ml tblspns Bailey's Irish Cream (shake bottle first)
300ml carton whipping cream, straight from the fridge
Chocolate shavings for sprinkling
Find 3 medium or 4 small sized ramekins/dessert glasses.  Grease the bases and a bit up the sides with butter.
Grind biscuits in food processor until fine in texture (or place biscuits into 2 freezer bags and use a rolling pin to alternately roll/bash until ground down).  Add to bowl with melted butter and mix until it resembles damp sand.  Evenly pile into the glasses and use the end of a rolling pin to press crumb mixture into the base of the ramekins and up the sides a bit.  Chill in the fridge while making the filling.
Melt chocolate in a heat-proof bowl over a small saucepan of gently simmering water, on low heat; stir until melted.  Remove pan from the heat.
Heat milk in a microwave proof mug or vessel in the microwave until just at boiling point.  Pour into the chocolate with the vanilla and Baileys cream and whisk briskly until combined and smooth.  Set aside to cool.
Meanwhile, whip chilled cream until fairly stiff using a hand whisk (or electric beater if you prefer).  Whisk 3/4 of the cream into cooled chocolate mixture quite briskly for a couple of minutes until thickened and smooth.  Pour evenly into ramekins on top of the crumb base and spoon remainder of the whipped cream over the top of the mousse.
Chill covered for an hour or two, or until set.  Serve with chocolate sprinkles on top.
Serves: 3 large, 4 small