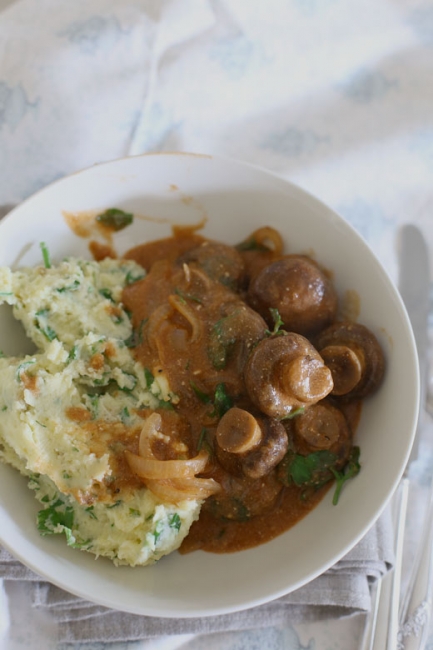 I've always thought that stroganoff didn't really need the beef (it's all about the mushies and sauce after all) so wondered what this classic dish would taste like with just hearty brown mushrooms.  Well we had this one weekend recently and it was delicious!  Mushrooms are a sort of beefy vegetable anyway, and so long as you don't overcook them (leaving them whole is sort of important, to me at least, so try to find bite sized ones) and they have a nice bite to them, you won't miss the beef at all, in fact, just think of them as vegetarian meatballs 😀
This does make a lot of sauce and in hindsight, a lovely bread roll would have been great to mop up the sauce and you could always use pasta instead of the mash; there's heaps of sauce to go around!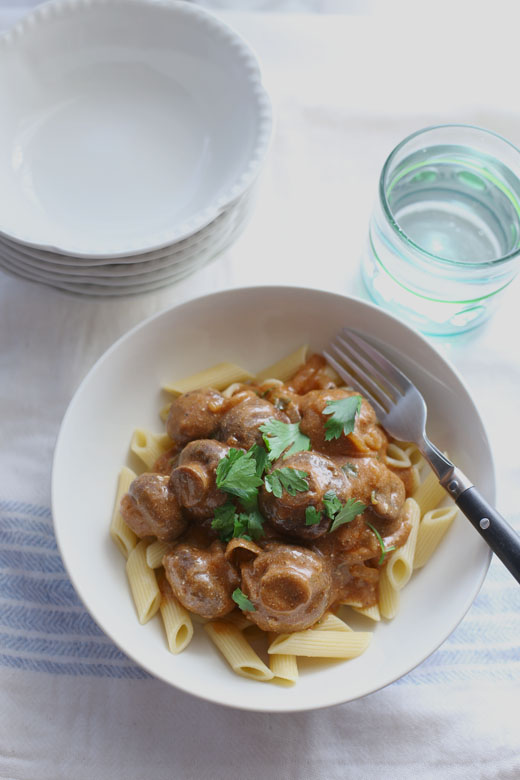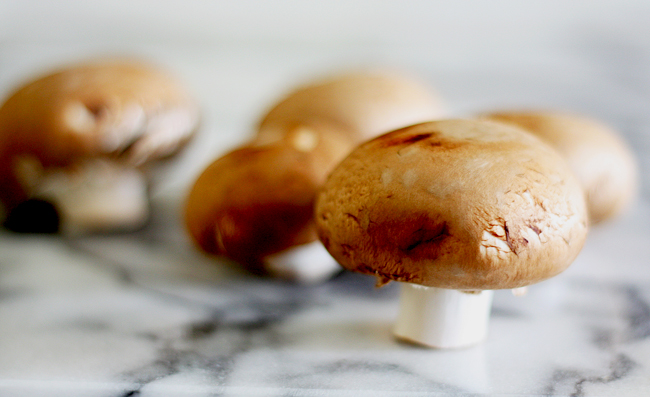 Recipe for mushroom stroganoff with sour cream herb mash:
Mash:
800g potatoes, scrubbed and cubed
1/2 cup reduced fat sour cream
4 x 20ml tblspns butter or margarine, at room temperature
Freshly ground sea salt and black pepper
60g Parmesan cheese, finely grated
Decent handful spring onions (green part only), flat leaf parsley & chives, finely chopped
Mushroom stroganoff:
2 x 15ml tblspns plain flour
Freshly ground sea salt and black pepper
2 tspns sweet paprika
700g small Swiss brown mushrooms, left whole
40mls oil
2 medium onions, thinly sliced
3 cloves garlic, crushed
3 x 15ml tblspns butter or margarine
40g no sodium tomato paste
1 3/4 cups low sodium beef stock (I used a vegetarian brand)
2 tspns Dijon mustard
1 x 15ml tblspn Worcestershire sauce
2 tspns balsamic vinegar
1/3 cup reduced fat sour cream, at room temperature
Seasoning
Handful flat leaf parsley, chopped coarsely
Crusty bread, to serve (optional)
Put potatoes into a large saucepan, cover with water and boil for 15-20 minutes, or until tender.
Meanwhile, place flour, seasoning and paprika into a bowl – stir until combined.  Toss through mushrooms until lightly coated.
White potatoes are cooking, add oil to a large fry pan and bring to high heat – add onions and garlic, season well and stir then immediately turn down to medium, cover and sauté until onions are softened and transparent, stirring regularly.  Increase heat to high, add butter, melt then add seasoned flour coated mushrooms and toss, stirring for a minute or so.  Add tomato paste and cook, stirring for a minute then pour in beef stock, scraping up the bits on the base of the pan.  Lower heat to medium and simmer for a few minutes, covered, until the mushrooms are just tender – add mustard, Worcestershire sauce and balsamic vinegar, stirring until combined, simmering for a minute or two uncovered until liquid has thickened.
Reduce heat to low then stir through sour cream, seasoning to taste and heat for a further minute until hot, bubbling and creamy.  Remove pan from hotplate and stir in parsley.
Drain potatoes then put pan back onto hotplate for half a minute until they've dried a bit.  Mash well then add in other ingredients and use wooden spoon to whip potatoes until creamy – add a splash of milk if you think it needs it.
Serve stroganoff straight away onto mashed potatoes with a bread roll.
Serves: 3
Note: You can always sub pasta for the potato mash.