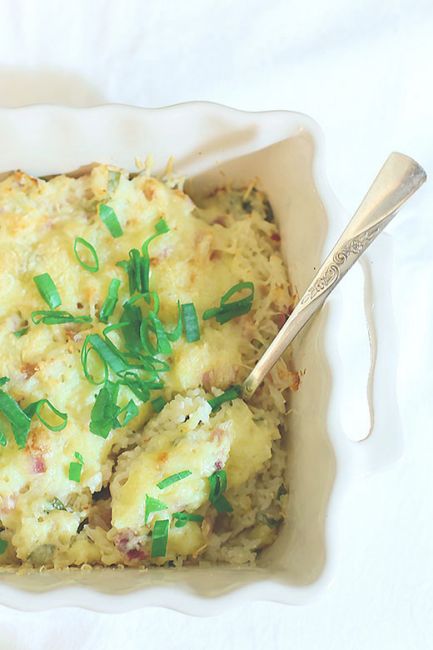 I made this impromptu rice dish one night to go with chilli con carne and now it's a keeper!
A bit crunchy around the sides and creamy and cheesy underneath, it has just a hint of chilli and goes with so many things.


Recipe for chilli cheese baked rice:
1 cup basmati rice, rinsed
1 1/2 cups water
2 x 20ml tblspns butter + 1 x 20ml tblspn olive oil
1 medium red onion, diced
2 cloves garlic, crushed or diced finely
1 red chilli, diced finely or 1 pinch chilli flakes, to taste
Freshly ground sea salt & black pepper
3/4 cup (80g) cheddar cheese, grated (loosely packed)
1/4 cup (30g) Parmesan cheese, finely grated
Decent handful green parts of spring onion, sliced finely + extra
1/3 cup full cream Greek yoghurt
Preheat oven to 200C.  Find a 20cm square, deep ceramic baking dish and grease with butter.
Add rice and water to a medium saucepan and bring to the boil then immediately turn down to the lowest setting, place on the lid and cook until water is absorbed completely, around 12 minutes.
Meanwhile, add butter and oil to a medium saucepan and add onion, garlic, chilli flakes and seasoning.  Sauté on medium heat for 8-10 minutes, stirring occasionally, until vegies are caramelised and onion is transparent.
Once rice is cooked, add in the butter/oil/onion/garlic mixture, spring onion, 3/4 of the cheddar and Parmesan cheeses and the Greek yoghurt along with some seasoning; stir through until combined.  Spoon into ceramic dish, smooth the top and scatter over the remainder of the cheese.
Bake for 20-25 minutes in preheated oven, or until light golden brown on top and heated through.  Scatter over extra green onions.
Serves: 4 as a side